SECRETARY OF AGRICULTURE CHALLENGES NJ RESIDENTS TO EAT LOCAL
Fisher Shops For All-Local Ingredients Dinner at Woodstown Farmers Market
For Immediate Release: August 7, 2009
Contact: Lynne Richmond
(609) 633-2954

(WOODSTOWN) – New Jersey Secretary of Agriculture Douglas H. Fisher will sit down to dinner this weekend with Jersey tomato and cucumber salad, Jersey Seafood sea scallops from Salty's Seafood Market in Point Pleasant Beach, corn pudding made with sweet corn from A.T. Buzby Farm in Woodstown, a semi-sweet Asian pear wine from Chestnut Run Farm of Pilesgrove and a pie made with Jersey peaches from the Wagon Wheel Restaurant in Pilesgrove, most of which was purchased at the Woodstown Farmers Market just a few miles from his home.

Secretary Fisher today issued a challenge to New Jersey residents to join him in eating a meal made with all local ingredients this weekend or some time in the near future.

"New Jersey's community farmers markets, roadside stands, fish markets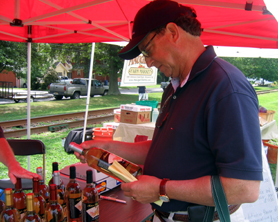 and supermarkets provide everything needed to create meals made with ingredients grown, harvested or produced by our state's farmers and fishermen," said Secretary Fisher.  "I urge everyone to incorporate these items into their daily diets.  Not only is it healthier to eat local foods, but it helps sustain our agriculture and fishing industries in the Garden State."
Secretary Fisher chooses a local  Asian Pear wine

Fisher issued his challenge during National and State Farmers Market week, pointing out that there are 131 community farmers markets in the state, selling all the ingredients for a delicious and nutritious meal, from fruits, vegetables, and herbs to pies, meats, seafood and even flowers to beautify the table.  The farmers harvest their produce at the peak of ripeness within 24 hours of sale to ensure the best taste and highest quality.

Governor Jon S. Corzine proclaimed August 2 through 8 as New Jersey Farmers Market Week to encourage all citizens to visit farmers' markets wherever they live or work and reap the benefits of Jersey Fresh fruits and vegetables.  Likewise, United States Secretary of Agriculture Tom Vilsack has proclaimed this week National Farmers Market Week.  Currently, nearly 4,900 farmers markets operate nationwide, up from 4,685 in 2008.

The Woodstown Farmers Market is one of 21 new community farmers markets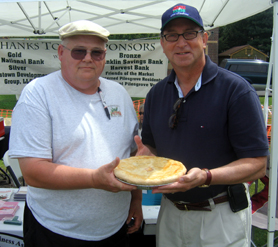 to open in the state this year.  The market is operated by the Woodstown-Pilesgrove Business Association and includes several local farmers, restaurants, plants and flowers, wool demonstrations and food concessions.  The market is open Fridays 9 a.m. to 2 p.m. through the end of October.

Paul Langley hands Secretary Fisher a pie made with Jersey Fresh peaches for his dessert

Two of the farmers accept WIC and Senior Farmers Market Nutrition Program vouchers, making available locally grown fresh fruits, vegetables, and herbs to nutritionally at-risk eligible WIC participants, including children 2-5 years old and eligible seniors age 60 and older.  The checks are valid through November 30 to purchase locally grown produce from certified farmer vendors. 

In 2008, there were 114,615 WIC and 224,680 senior checks redeemed through the Farmers Market Nutrition Program in New Jersey.  For more information on the Farmers Market Nutrition Program, visit www.nj.gov/agriculture/divisions/md/prog/wic.html.

Jersey Fresh produce is at the peak of the season with most fruits and vegetables available, including sweet corn, tomatoes, peaches, nectarines, squash, peppers, eggplant, basil, beets, cabbage, collards, swiss chard, arugula, kale, leeks, cilantro, parsley, dill, mint, dandelions, turnips and white potatoes.

"Eating Jersey Fresh fruits, vegetables and other agricultural products can go a long way to improving overall health," said Secretary Fisher.  "Eating locally also is a good choice for protecting our environment by reducing the miles a meal travels between farm and fork, lessening fuel consumption.  In addition, choosing locally grown products helps keep New Jersey farmers on their land, preserving the Garden State's quality of life."

To locate a community farmers market near you, visit www.state.nj.us/jerseyfresh/searches/urban.htm.