Home
>
News
>
Press Releases
>
2009
>
NJ SEEKS TO SAVE TREES FROM ASIAN LONGHORNED BEETLE, AWARENESS CAMPAIGN KICKS OFF IN CHEESEQUAKE PARK
NJ SEEKS TO SAVE TREES FROM ASIAN LONGHORNED BEETLE, AWARENESS CAMPAIGN KICKS OFF IN CHEESEQUAKE PARK
Non-Native Pests Threaten Forests Throughout Northeast
For Immediate Release: August 20, 2009
Contact: Lynne Richmond
(609) 633-2954

(TRENTON) – New Jersey is joining other Northeast states in calling attention to the threat of the Asian longhorned beetle to trees in the region.  New Jersey Secretary of Agriculture Douglas H. Fisher today kicked off an awareness campaign to help stop the beetle from invading forested areas.

Governor Jon S. Corzine has declared August "Asian Longhorned Beetle Awareness Month" in the state.  In a proclamation presented to Cheesequake State Park today, Governor Corzine said, "The State is committed to stopping the spread of the Asian longhorned beetle before it has the chance to harm our trees or forests, which have significant ecological, recreational and economic value."

The Asian longhorned beetle (ALB) is a large, black invasive pest with no known predators in the United States, which kills hardwoods. 

"When the Asian longhorned beetle was discovered in Jersey City in 2002 and again in Middlesex County in 2004, it was ordinary citizens that spotted the damaging insect," said Secretary Fisher.  "We are urging citizens again to be on the lookout for these creatures and also to take steps so they don't move materials to other parts of this state or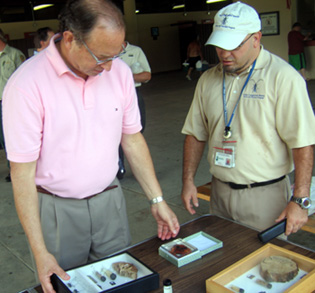 into other states that might harbor the bug."

Speaking at Cheesequake State Park in Matawan, just 18 miles from Carteret, where the beetle was first found in the most recent infestation in Middlesex and Union Counties, Secretary Fisher warned that, unchecked, the beetle can move a half mile each year and be taken even further in firewood and wood pallets, allowing it to spread rapidly.


Secretary Fisher views the ALB display with Paul Kurtz, NJDA ALB program coordinator

"Awareness is the key to preventing this invasive insect from devastating New Jersey's forests," said Acting Department of Environmental Protection (DEP) Commissioner Mark N. Mauriello. "If we want to beat this beetle, we need residents to stay on the lookout and report any signs of damage."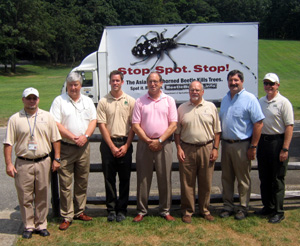 The DEP's Division of Parks and Forestry has oversight of more than 430,000 acres of land and receives over 18 million visitors annually.  About 42 percent -- or 2.1 million acres -- of New Jersey is forested. This number includes state and private lands.

Paul Kurtz of NJDA, Ed Lempicki and Brian Widener of NJ Forest Service, Secretary Fisher, Carl Schulze of NJDA, Jim Barresi of NJ Forest Service, and Tom Denholm of USDA.

"These state and private lands are populated with trees, which serve as environmental resources," explained Commissioner Mauriello. By natural design, trees filter air pollution chemicals and dangerous small dust particles from the air; reduce water runoff, flooding, erosion and storm water management costs; and help recharge groundwater and keep sediment and pollutants from streams.  They also provide summer shade and protection from winter winds and blowing snow, which not only increases comfort but reduces winter heating and summer cooling costs by at least 20 percent.

As part of the awareness month, the Department of Agriculture (NJDA) recruited volunteers to help survey two areas in Cranbury and Monroe Townships with high-risk wooded areas.  The volunteers were trained to be able to spot signs of the beetle in trees and identify the beetle.  The beetle was not detected by the volunteers in either area.

The Department is sponsoring a radio and television public service message campaign on New Jersey stations. Asian longhorned beetle awareness materials were distributed to all state parks and forests.  In addition, Department personnel set up displays at several public events and county fairs this summer.

Funding for the campaign was provided by the United States Department of Agriculture Animal and Plant Health Inspection Service Plant Protection and Quarantine (USDA APHIS-PPQ).  In addition to New Jersey, Connecticut, Maine, Massachusetts, New Hampshire, New York, Pennsylvania, Rhode Island and Vermont are participating in the ALB Awareness Month.

Secretary Fisher urged people to leave their firewood at home when camping and to purchase it where it will be used to prevent the spread of the Asian longhorned beetle and other non-native bugs that can kill trees, such as the Emerald Ash Borer.  A pledge against moving firewood can be taken at www.dontmovefirewood.org and www.stopthebeetle.info. 

In partnership with USDA APHIS-PPQ, a five-year operation in the Jersey City infestation zone eradicated the Asian longhorned beetle last year.  Surveys originally had found 113 infested trees in the city's Newport section.  Those trees and 348 at-risk host trees were removed.  The Middlesex/Union County zone involved 616 infested trees, which were removed along with 20,903 at-risk host trees.  The Division of Parks and Forestry worked closely with the NJDA to replant about 5,400 trees in the two areas.  No new infested trees have been discovered in New Jersey since April of 2006.

Asian longhorned beetles were first discovered in the United States in 1996 in the Greenpoint area of Brooklyn. Since then, infestations have been found in Manhattan, Staten Island, Illinois and Worcester, Massachusetts.  United States Department of Agriculture officials have determined the beetles first entered the country inside solid wood packing material that came from China.

For more information on New Jersey's Asian longhorned beetle eradication, visit: www.nj.gov/agriculture/divisions/pi/prog/asianlonghornbeetle.html.