JERSEY FRESH PRODUCE AVAILABLE THIS FALL AT FARMERS MARKETS
Secretary of Agriculture Visits Markets in Essex and Middlesex Counties
For Immediate Release: September 11, 2009 
Contact: Lynne Richmond
(609) 633-2954

(TRENTON) – New Jersey Secretary of Agriculture Douglas H. Fisher today reminded the public that Jersey Fresh produce season continues through the end of October, with a wide variety of vegetables, fruits and other agricultural products available at the many community farmers markets throughout the state.

Secretary Fisher toured some of those markets in Middlesex and Essex counties, visiting with the farmers and market organizers.

"Fall is a wonderful time to visit a community farmers market to pick up fresh produce and other items grown by a New Jersey farmer," said Secretary Fisher.  "Some of these markets remain open through Halloween and can be very festive destinations for local residents and visitors."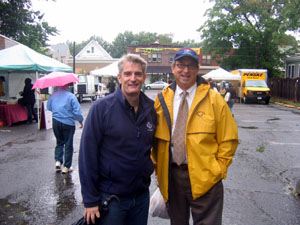 In Highland Park, the farmers market, managed by Main Street Highland Park, is in its 14th season and features eight farmers and two other vendors who sell from 11 a.m. to 5 p.m. on Fridays.

James McCrone, Main Street Highland Park Executive Director, said the market was started in 1995 as a way to bring people downtown to shop, and it has been very successful.

"The market is the gathering place in Highland Park with a good set of people who meet, lunch and buy each Friday," said McCrone.  "It also has helped to shape discussions about healthy food and eating."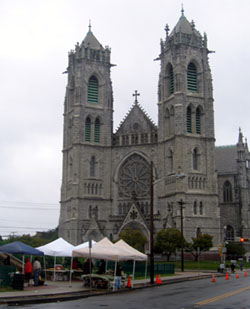 Secretary Fisher's second stop was the Branch Brook Park Farmers Market in Newark.  The market was started in 2006 by the Branch Brook Park Alliance as part of the group's overall effort to restore the park, the first county park in the United States, dating back to 1895. 

The market operates from 12 noon to 7 p.m. each Friday with one or two farmers, a couple of vendors, and live entertainment starting at 4 p.m. 

The Branch Brook Park Farmers Market is located across the street from the Cathedral Basilica of the Sacred Heart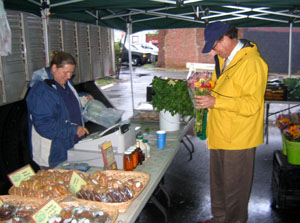 Fisher then visited the Caldwell Farmers Market, one of the many new farmers markets this year.  The market is operated by the Caldwell Downtown Alliance.  It has three farmers and five additional vendors, as well as live music, cooking demonstrations and various weekly events.  The market runs from 2 to 7 p.m. Fridays.

"A community farmers market promotes pride and awareness in New Jersey farmers, brings the community together, and creates interest in downtown Caldwell," said Meryl Layton, Caldwell Downtown Alliance Executive Director.  "While creating awareness of Caldwell's downtown, it has become the place for people to be seen and see others – and enjoy the best of Jersey Fresh."

There were 131 community farmers markets operating in the state this year.  Many of the farmers who sell at community farmers markets in the state participate in the Women, Infants, and Children (WIC) and Seniors Farmers Market Nutrition Program, which makes available locally grown fresh fruits, vegetables, and herbs to nutritionally at-risk pregnant, breast-feeding, or post-partum women; children two to five years old; and eligible seniors age 60 and older. 

WIC participants and eligible senior citizens receive checks valid through November 30 to purchase locally grown produce from certified farmer vendors. 

In 2008, there were 115,000 WIC checks and 225,000 senior checks redeemed through the Farmers Market Nutrition Program. 

In addition, more than 15 farmers are participating in a pilot project this year to allow food stamp recipients to use their SNAP cards at farmers markets to buy fresh produce through the use of Electronic Benefits Transfer units.

A study released by the Rutgers Food Innovation Center earlier this month found that farmers who participate in community farmers markets said sales at those markets provide "a reliable cash flow for their farms and higher profit margins than wholesale channels."  One-third of the farmers surveyed said their sales at farm markets represent at least 50 percent of their gross farm income.  In addition, they said 90 percent of purchases made at their booths were by repeat customers, due to consistent pricing and friendly, fair service.

The survey also showed that the market manager is "a key factor to the success of any community farmers market and that many managers work on a part-time or volunteer basis and see their work as a form of public service in helping to preserve small family farms and providing access to healthy, fresh, locally grown foods."

For the complete report, visit http://foodinnovation.rutgers.edu/FarmersMarketGuide2009.pdf.

For information on locations, days and hours of community farmers markets throughout New Jersey, visit www.state.nj.us/jerseyfresh/searches/urban.htm.