Home
>
News
>
Press Releases
>
2009
>
EXPANDED RUTHERFORD FARMERS MARKET AMONG MARKETS IN THE STATE SERVING UP JERSEY FRESH THIS FALL
EXPANDED RUTHERFORD FARMERS MARKET AMONG MARKETS IN THE STATE SERVING UP JERSEY FRESH THIS FALL
Many Farmers Markets Continue Through October, Offering Local Residents NJ Farm Products
For Immediate Release: September 30, 2009
Contact: Lynne Richmond
(609) 633-2954

(RUTHERFORD) – Community farmers markets are a familiar sight during the summer in New Jersey, but a large number of these tailgate markets remain open through the end of October as Garden State farmers offer a bounty of fall produce, everything from cauliflower, squash, eggplant and cabbage to apples, tomatoes, beets and broccoli.

New Jersey Secretary of Agriculture Douglas H. Fisher spent some time at the busy Rutherford Farmers Market today to highlight the availability of Jersey Fresh produce at community farmers markets through the fall.

"The Rutherford Farmers Market is a wonderful place to pick up a wide variety of the freshest fall produce and other agricultural products and meet the farmers who grow these items," said Secretary Fisher.  "When consumers shop at community farmers markets, it helps to keep our farmers in business and sustain our agriculture industry."

The Rutherford Farmers Market is in its 12th season and has two farmers and various other food vendors. The market, which operates on Wednesdays from 11 a.m. to 4 p.m., just recently expanded to Saturdays from 8 a.m. to 2 p.m., as well.  The market's last day for 2009 is October 31. 

Fisher was joined by some local officials at the market, visiting each farmer and vendor, and even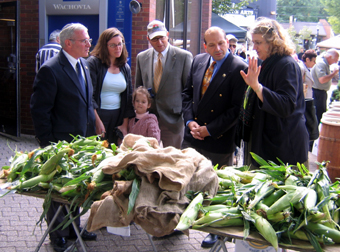 sampling some pickles and nuts.


Left to Right: Assemblyman Gary Schaer, Councilwoman Kimberly Birdsall, Secretary Fisher, Assemblyman Fred Scalera and market manager Robin Reenstra-Bryant




"The farmers market has been a staple in the heart of the downtown district," said Rutherford Borough Councilwoman Kimberly Birdsall.  "People look forward to it."

"There's nothing like a farmer's market in the fall in New Jersey," said Assemblyman Gary Schaer. "I thank Secretary Fischer for stopping by. Farmer's markets like the one we have in Rutherford are great places for communities to come together and support New Jersey's agricultural heritage. Not only do they provide great products at great prices, but they're key to supporting local farmers and promoting local economic development."

"Farmer's markets like the one we have in Rutherford are very much cornerstones of our communities," said Assemblyman Fred Scalera. "They're great places to gather, especially in the autumn, and are crucial for our farmers, who work everyday to continue to provide us with fresh, healthy food in the nation's most densely populated state. That's why Assemblyman Schaer and I have done everything we can to support local farmers and appreciate Secretary Fischer taking the time to visit."

The Rutherford Farmers Market was started by Rutherford Downtown Partnership in 1998 to draw people into the downtown area.  A 2005 study showed 1,000 people visited the market each week.  It also found that 80 percent of those visiting the market were patronizing other businesses while in the downtown area. 

"Expanding the market to Saturday has already increased the number of people on the sidewalks of town on Saturdays," said Market Manager Robin Reenstra-Bryant.  "Rutherford Farmers Market was the only New Jersey recipient of a $17,000 United States Department of Agriculture grant for market expansion and promotion.  This has allowed for more advertising and expanding into neighboring towns, such as Secaucus, and there have been more Secaucus residents attending the market this year."

There were 131 community farmers markets operating in New Jersey this season, with about 20 new markets opening.  Many of these markets participate in the Women, Infants, and Children (WIC) and Seniors Farmers Market Nutrition Program, which makes available locally grown fresh fruits, vegetables, and herbs to nutritionally at-risk pregnant, breast-feeding, or post-partum women; children two to five years old; and eligible seniors age 60 and older. 

WIC participants and eligible senior citizens receive checks valid through November 30 to purchase locally grown produce from certified farmer vendors.

For complete information on locations, days and hours of community farmers markets throughout New Jersey, visit www.state.nj.us/jerseyfresh/searches/urban.htm.