FALL ON-FARM ACTIVITIES IN FULL SWING
Secretary of Agriculture Highlights the Many Fun Events Available on Farms
For Immediate Release: September 30, 2009
Contact: Lynne Richmond
(609) 633-2954

(WYCKOFF) – New Jersey Secretary of Agriculture Douglas H. Fisher today was treated to a hayride through Abma's Farm out to the pumpkin field and back to the farm market for fresh-baked cider donuts, just one of the many on-farm experiences available at this time of year in the Garden State.

"When a family comes to a farm in the fall and picks a pumpkin, drinks fresh-pressed apple cider, or wanders through a corn maze, it creates memories that last a lifetime," said Secretary Fisher. "It's not just a business for most farmers, it's a chance to educate people about where their food comes from, the hard work it takes to grow the food, and the importance of having agriculture near where they live."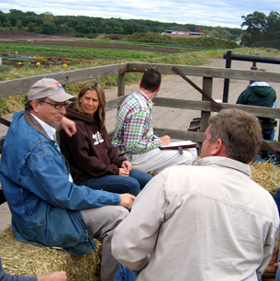 The Abmas try to create that experience for every person who visits their farm, whether it's a stop at the farm market or nursery, a school or group tour, or a child's birthday party.

"My family has farmed at this location for 75 years and I'm the third generation," said James Abma, who also serves as the President of the Bergen County Board of Agriculture. "In fact, the fourth generation is active on the farm, as well."

Secretary Fisher (left) takes a hayride through Abma's Farm

Besides traditional produce, the farm includes a petting zoo, pony rides, eggs and poultry, and rental of incubators used for science projects for hatching eggs.

Adding to the experience, Abma said he rents space on his farm to HealthBarn,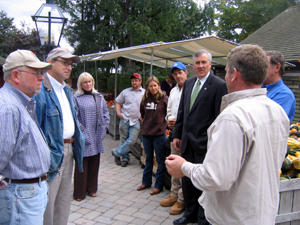 which provides hands-on healthy lifestyle education for children and their families. The program includes children actually working on a farm plot, growing and harvesting their own food, giving them an opportunity for physical activity and teaching them about good nutrition.

Left to Right: Deputy Mayor Rudy Boonstra, Secretary Fisher, Freeholder Julie O'Brian, Jim Abma, Stacey
Antine, County Ag Extension Agent Joel Flagler, Bergen County Executive Dennis McNerney and Jim Abma.

Agritourism is a $57.5 million industry in the state and offers a variety of year-round experiences from pick-your-own produce, farm stands, wine tastings and horse back riding to hayrides, corn mazes and cut-your-own Christmas trees. In addition to revenues for farmers, a Rutgers University study found that for every dollar in agritourism sales generated on a New Jersey farm, 58 cents of additional sales are generated in a wide range of other allied businesses, such as restaurants, construction companies and insurance providers.

The study, conducted in 2007, found that more than one-fifth of New Jersey farms offered some form of agritourism, with 43 percent of New Jersey's total farmland associated with farm operations engaged in agritourism. The study also showed that a large percentage of farms offering agritourism events derived most, if not all their income from those activities.

Some of those agritourism activities are conducted on permanently preserved farms. On November 3, New Jersey voters will be asked to approve Public Question #1 – the Green Acres, Water Supply and Floodplain Protection, and Farmland and Historic Preservation Bond Act of 2009. If passed, the Act would authorize new funding that would enable New Jersey to continue preserving farmland and historic properties; purchase open space for recreation or conservation; fund park improvements; and purchase as open space properties prone to flooding.

To find activities planned this fall on New Jersey farms, visit www.jerseyfresh.nj.gov, www.visitnjfarms.org, and www.visitnj.org websites.