NORZ NAMED NJ OUTSTANDING YOUNG FARMER 2010
Applications Now Being Sought for 2011 Honoree
For Immediate Release: October 6, 2009
Contact: Lynne Richmond
(609) 633-2954

(TRENTON) – New Jersey Secretary of Agriculture Douglas H. Fisher today announced that Rich Norz, owner of Norz-Hill Farm in Hillsborough, has been named 2010 Outstanding Young Farmer by the New Jersey State Board of Agriculture.

Norz, who is 40, will be presented with his award at the 2010 New Jersey Agricultural Convention early next year.  He also will compete for one of the top four National Outstanding Young Farmer (OYF) Awards. 

"Rich Norz is an energetic, innovative farmer, who is helping to shape the future for agriculture in New Jersey through his hard work and community involvement," said Secretary Fisher.  "For New Jersey agriculture to continue to thrive, we need farm families, like the Norz', to stay in farming through the generations and we need to encourage new farmers to join the industry.  The Outstanding Young Farmer Award helps to recognize those young people for the vital role they play in sustaining New Jersey agriculture."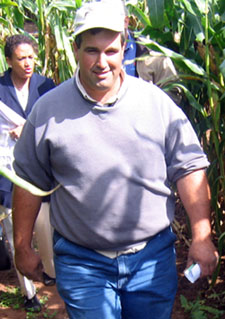 Norz is a fourth-generation farmer who owns the family farm in partnership with his father, Richard Norz Sr. 

The Norz family started farming in Hillsborough in 1920.  The farm consists of 1,500 acres, with about 80 acres of that in the Farmland Preservation Program.  They grow a variety of crops, operate a produce stand and conduct many fall agritourism activities, including a corn maze, school tours and pick- your-own pumpkins.  The Norz family had previously been in the dairy business

.

Rich Norz walking through his corn maze with Secretary of State Nina Mitchell Wells in 2008



Rich Norz is a leader in his industry and community.  He serves as the President of the Somerset County Board of Agriculture and Somerset County 4-H Association.  He is a member of the Somerset County Agriculture Development Board and the Hillsborough Wildlife Commission and has served as President and various officers of the New Jersey Holstein Association; New Jersey Junior Holstein Association; Central Jersey Holstein Association; and New Jersey 4-H Dairy Advisory Council.

Rich consistently used the most modern genetics tools available to advance his cow breeding operation and worked with federal authorities on using water and soil conservation practices on the farm. 

New Jersey annually recognizes the outstanding achievements of a young farmer, who is an upstanding leader, respected agriculturalist and is active in community or faith organizations.  The Department of Agriculture is now accepting applications for the Year 2011 Outstanding Young Farmer Award.  The submission deadline for nominations is January 15, 2010.

Nominees must be farm operators, deriving a minimum of two-thirds of their income from farming and must be between the ages of 21-40, not becoming 41 prior to January 1 of the year for which they are applying.  Candidates who have a financial interest in the farm operation (a sole proprietor, partners, or a corporation) will receive higher ranking in the OYF judging process. However, nominees also may include salaried farm managers and employees who are actively involved in policy and management decisions.  Submission of a financial statement is not required for state competition.

A panel of three judges reviews each nominee's application based on the following criteria: progress in their agricultural career (50 percent of the total score); soil and water conservation practices (25 percent of the total score); and contribution to his/her community, state and nation (25 percent of the total score).

Any individual or organization can nominate deserving young farmers' names. Persons who have been nominated in the past or previous state winners who did not make it to the National competition can be re-nominated. However, these candidates must still meet the eligibility criteria.

Since the United States Jaycees presented the first award, five New Jersey farmers' names have been added to the National OYF Honor Roll. They include Abbott Lee (1985), James B. Giamarese (1989), Robert Von Thun, Jr. (2001), Jeffrey VanderGroef (2005) and H. William Sytsema (2009).

The OYF program is the oldest farmer recognition program in the United States, selecting its first group of national winners in 1955, and is administered by the U.S. Junior Chamber of Commerce. The goals of the OYF program are to foster better urban-rural relations through the understanding of farmers' challenges, as well as the appreciation of their contributions and achievements; to bring about a greater interest in farmers/ranchers; and to help build an urban awareness of the farmers' importance and impact on America's economy.  The OYF program encourages a greater interest in agriculture through the appreciation of the farmers' contributions and achievements and recognizes local citizens' contributions and encourages better urban-rural relations. The National OYF program is sponsored by Deere & Company, supported by the Outstanding Farmers of America (OFA) Fraternity and the National Association of County Agriculture Agents (NACAA), and administered by the United States Junior Chamber of Commerce.

For more information on the state's Outstanding Young Farmer program, visit: www.nj.gov/agriculture/about/sba/cover.html.