RUTGERS FOOD INNOVATION CENTER ASSISTS FARMER BUSINESS DEVELOPMENT
Secretary of Agriculture Urges Farmers to See What Center Has to Offer
For Immediate Release: October 15, 2009
Contact: Lynne Richmond
(609) 633-2954

(BRIDGETON) – For peach farmer Santo John Maccherone, the Rutgers Food Innovation Center in Bridgeton made the difference between developing his peach cider and not.  New Jersey Secretary of Agriculture Douglas H. Fisher today met with Maccherone at the Center to talk about the many services available to farmers and other food businesses.

"The Food Innovation Center is an invaluable resource to farmers who want to create new products out of what they grow or produce," said Secretary Fisher.   "The expert staff at the center can help take an idea and make it a reality.  Santo John Maccherone's peach cider is just one of what I'm sure will be many success stories in the future."

When Maccherone hit on the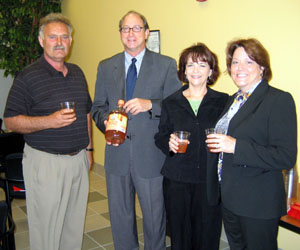 idea of using the 10 percent of his peach crop that was wasted each year to make peach cider, he tapped the expertise of the Rutgers Food Innovation Center.

"I had the idea and the passion for the idea and they allowed me to bring the idea to fruition," said Maccherone, a third generation farmer.  "Everything is so complicated.  Their expertise made it possible to create the peach cider."

Santo John Maccherone, Secretary Fisher and Diane Holtaway and Margaret Brennan-Tonetta of Rutgers enjoy Maccherone's peach cider

In addition, the Food Innovation Center staff helped Maccherone apply for and receive a United States Department of Agriculture (USDA) Value-Added Producer Grant totaling almost $52,000 that helped Maccherone set up his cider business.

Maccherone's 246-acre Circle M Farms in Mannington Township, Salem County, grows peaches, nectarines, plums and asparagus.  He now produces about 6,000 gallons of the peach cider each year.  It is distributed throughout the state at some Whole Foods, Wegmans and ShopRite stores, as well as roadside stands and produce markets.


The Food Innovation Center provides business and technology expertise to small and midsized food and agricultural businesses in New Jersey and nationwide.  Since 2001, the center has assisted more than 1,000 companies and entrepreneurs in every New Jersey county.


Brennan-Tonetta shows Secretary Fisher the center's production line

In addition, the center has begun offering in-class and on-site food safety training, online courses, on-demand videos and array of specialized services targeted at the food industry to assist with job creation and retention.  Providing these educational resources is a response to the high demand for training and education needed by members of the food industry, start-up and new food companies as well as farmers looking to expand opportunities in retail and value-added agriculture.

The center is recognized as a national "Innovative Program Model" by the USDA for "achievement as a model for community and economic development and jobs creation."  Conservative estimates project that by 2015, the center will create more than 1,000 new jobs.  Further estimates indicated that thousands of employees will be engaged in the center's quality assurance, new technology development and integration and workforce development/training programs.

For more information on the center, visit www.foodinnovation.rutgers.edu.