Home
>
News
>
Press Releases
>
2009
>
RE-DEVELOPMENT OF NEW JERSEY OYSTER INDUSTRY IS CREATING JOBS IN STATE, SHARED SECRETARY OF AGRICULTURE
RE-DEVELOPMENT OF NEW JERSEY OYSTER INDUSTRY IS CREATING JOBS IN STATE, SHARED SECRETARY OF AGRICULTURE
For Immediate Release: October 15, 2009
Contact: Lynne Richmond
(609) 633-2954

(PORT NORRIS) – In a Cumberland County town once known as the oyster capital of the world, the oyster industry is fighting to come back in New Jersey.  State Secretary of Agriculture Douglas H. Fisher today visited the only oyster  house in Port Norris to show support for an industry that could, over time, create many jobs in the South Jersey area.

"Through a cooperative effort between state and federal agencies, Rutgers University and private companies, we are slowly rebuilding the oyster industry in New Jersey, which has a long tradition in Cumberland County's waterfront communities," said Secretary Fisher.  "Not only will expansion of the oyster industry bring jobs to the area, it also will positively impact the state economy."

In October 2007, the Delaware company Harbor House Seafood invested in the future of New Jersey's oyster industry by purchasing an oyster shucking house in Port Norris, now the only shucking house in the state.  The operation returned 125 jobs to South Jersey, including boat and dock workers, shuckers, packers, and truck drivers.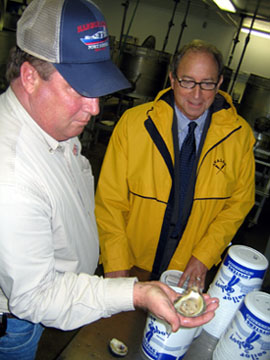 Harbor House harvests out of the Delaware Bay from their own private beds, utilizing their own fleet of boats plus some private boats, about 25 in all.  The company works with Rutgers University Marine and Biology Group for guidance on ways it can effectively improve the environment.  Harbor House also works with state and federal officials in re-seeding their beds with shells to foster oyster growth.

Todd Reeves, Harbor House plant manager, shows Secretary Fisher a shucked oyster.




"We are planting shell on our private beds about 100,000 bushel per year and having great success," said Mark Bryan, President of Harbor House Seafood.  "The state needs to replenish their beds so we can increase the oyster quota, which is the amount we can catch per year.  The economics are simple – for ever dollar the state spends, they will receive a $40 return to the economy, so, the odds are good on their investment."

Bryan said only 80,000 bushels of oysters are harvested in New Jersey in the summertime, which he says is not enough for people to know that New Jersey even has oysters.  A few decades ago, the quotas were upwards of several hundred thousand bushels.  By the beginning of this decade, oyster populations had plummeted due to many different factors, including disease.

The Department of Agriculture announced the Jersey Seafood brand last year to bring more attention to the state's seafood industry.  In 2008, the value of New Jersey's commercial seafood catch was $168 million.  That year, New Jersey fishermen landed 162 million pounds of seafood.  In 2007, the value of the aquaculture industry, alone, in the state was $6.6 million.

For more information, visit the Jersey Seafood website at www.jerseyseafood.nj.gov.