NEW JERSEY DEPARTMENT OF AGRICULTURE JOINS NATIONAL BARN QUILT PROGRAM
Quilt Plaque Adorns Health and Agriculture Building
For Immediate Release: October 20, 2009
Contact: Lynne Richmond
(609) 633-2954

(TRENTON) – New Jersey has joined seven other states in the Barn Quilt Project, celebrating New Jersey's agricultural heritage while highlighting farms across the state with colorful quilt blocks.

An 8 foot by 8 foot plywood quilt square, painted in the Harvest Star pattern in green and gold, was mounted on the side of the Health and Agriculture Building in downtown Trenton last week, sponsored by the New Jersey Department of Agriculture to show support for the project.

"I felt that the building where the Department of Agriculture offices are housed was an ideal location for a barn quilt, since the project promotes the work we do every day," said New Jersey Secretary of Agriculture.  "We want to encourage the public to learn about our state's strong agricultural legacy as well as provide for a fun day out, driving through the countryside to visit the participating farms."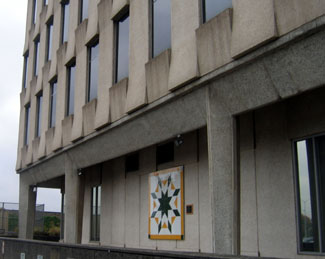 The Department's barn quilt was made by Tom Planer of Hope, New Jersey, husband of one of the organizers of the project. 

The first barn quilt in New Jersey was installed on the Museum of Agriculture Building in New Brunswick in June 2009.  Since then, 18 to 20 plaques have gone up on barns and other agricultural buildings throughout the state.  The project is spearheaded by the Museum, through the Barn Quilt Association of New Jersey, with the hopes of creating a map of the quilts and a trail to follow for people who are interested in visiting farms to see the quilts.

The idea originated with Donna Sue Groves of Ohio, who wanted to honor her mother, an avid quilter.  This "Clothesline of Quilts" has since spread through counties in Iowa, Kentucky, Missouri, New York, North Carolina, Ohio, and Tennessee.

In New Jersey, barn quilts can be found in Mercer, Middlesex, Morris, Sussex, and Warren counties.  Anyone can get involved by hosting or sponsoring a block, or working as a volunteer on the project.

For more information about the Barn Quilt Project in New Jersey, visit www.njbarnquilts.com.