MIDDLESEX COUNTY TEEN NAMED 2010 NJ AGRICULTURAL FAIR AMBASSADOR
For Immediate Release: November 10, 2009
Contact: Lynne Richmond
(609) 633-2954

(TRENTON) – Timothy J. VonThun, a 17 year old South Brunswick High School student, was honored as the 2010 New Jersey Agricultural Fair Ambassador by the Agricultural Fair Association of New Jersey at their fall dinner meeting on Sunday, November 1 in Eastampton.

"Having visited the VonThun farm in September, I got the opportunity to meet Tim and found that he shares his parents' commitment to not only growing the highest quality produce and plant material but to educating the public about the importance of growing food close to where we live," said New Jersey Secretary of Agriculture Douglas H. Fisher.  "I am sure Tim will be a great spokesman for New Jersey agriculture when he visits the agricultural fairs next season."

As ambassador, VonThun of Monmouth Junction is charged with visiting the state's agricultural fairs in 2010,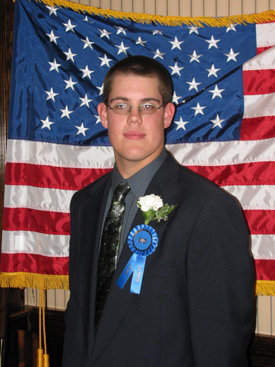 discussing the fairs and promoting agritourism to the public, and bringing people together to support the state's agriculture industry. 

"There are many people in my school that have never been to a farm, and some don't even know where their food really comes from," VonThun wrote in his contest essay.  "As a farmer myself, I strive to teach the public all I can about agriculture and remove any misconceptions.  Agriculture is very important to me and I look forward to staying active in the agricultural industry, continuing to make it a part of my life and continuing to help the industry grow."



VonThun was raised on his family's farm, VonThun's County Farm Market in Monmouth Junction, where they grow various fruits, vegetables, and nursery stock, offer pick-your-own produce, a corn maze, and educational programs and operate a retail market.

Tim began helping out on the farm at a young age and his role and responsibilities have continued to grow throughout the years.  In addition to his duties on his family's farm, he also works at a local Christmas tree farm.

Tim is involved in 4-H in both Middlesex and Mercer Counties.  He holds a leadership project in Middlesex and a Dairy Goat Project in Mercer.  He volunteers at the Burlington, Mercer and Middlesex County Fairs and is a member of the American Dairy Goat Association.  In school, he is a member of the National Honor Society, the National Spanish Honor Society, part of the PEER Leadership Program and a participant in the Chemistry Olympics.

This is the seventh year the Agricultural Fair Association of New Jersey has named an ambassador.  In choosing an ambassador, the Association seeks a good representation of young people active in agriculture in the Garden State and their county fair.  Nine people competed for the position this year.  This is the first time a man has won the title.

Selected First Runner-up in the competition was Callie Hart of Washington Township, Second Runner-up was Kaitlyn Foder of Lambertville and Third Runner-up was Morgan Doyle of Williamstown.

There were 20 agricultural fairs in the state this past summer, including the New Jersey State Fair at the Sussex County Fairgrounds.  The earliest fair is held at the end of May, with the final fair of the season in late August.

For more information on New Jersey's agricultural fairs, visit www.njagfairs.com.