CUMBERLAND REGIONAL FFA MEMBERS DISCUSS FUTURE OF NJ AGRICULTURE WITH SECRETARY OF AG
For Immediate Release: November 12, 2009
Contact: Lynne Richmond
(609) 633-2954

(TRENTON) – The threat of development, the high cost of farming and potential new food safety regulations are the top concerns of Cumberland Regional High School FFA members.    Eighteen of the high school's teens participated in "Lunch with the Secretary" with New Jersey Secretary of Agriculture Douglas H. Fisher on Tuesday, November 10.

"We want to know what young people in agricultural education are thinking because they are the ones who might eventually take over the family farm or enter new, higher technological areas of agriculture in our state," said Secretary Fisher.  "We are trying to encourage them to pursue careers in agriculture because there is, and will be in the future, a great need for skilled workers in our industry."

Cumberland Regional High School's FFA chapter was chartered in 1977.  There are currently 33 members.  About 175 students take agricultural education classes at the school each year.  Courses offered include:  Exploring Agriculture, Ag Science/Biotech, Floriculture, Landscape/Greenhouse, Turf and Nursery Science, Production Agriculture and Ag Business.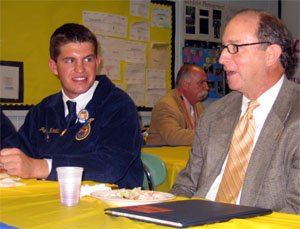 High School Junior and FFA Chapter President Jimmy Nardelli said his goal is to work in his family's produce business, Nardelli Brothers Lakeview Farms in Cedarville, so, he understands the pressures facing today's farmers.

Nardelli and Fisher chat at lunch during program

"You have a farmer who is getting older, has no kids to take over his business and he's facing new regulations to ensure food safety of his products," said Nardelli.  "The Jersey Fresh brand ensures the freshness of what's being grown – by having third-party audits of our produce in New Jersey, people feel safer about what they're feeding their families."

Brittany Weir, a sophomore from Dividing Creek who would like to study to be an equine practitioner, said she has taken a proactive stance to ensure there's a vital agriculture industry in the future.

"As part of a 4-H project in Washington D.C. in July, we created a Facebook page to support the New Jersey Department of Agriculture and it now has about 1,000 followers," said Weir.  "Secretary Fisher's visit today taught me how the Department is working and that he really cares about agriculture."

Cumberland Regional FFA Advisor and agriculture education teacher Michael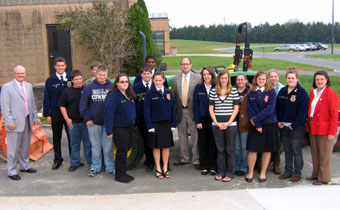 Griffith was, himself, a former FFA member and graduate of the high school.  He led a contingent of students to the National FFA Convention in Indianapolis, Indiana, in October.  There, the students earned a Bronze Award in Livestock Judging and a Silver Award in Dairy Handling.

"Our agricultural education program is not just about teaching the skills of agriculture but about ag awareness," said Griffith.  "We want the students to be good ambassadors for agriculture."

Cumberland Regional's ag facilities include an ag shop which is shared as a floriculture room, an agriculture classroom, an aquaculture room, a Lord and Burnham greenhouse, and approximately 20 acres of land the ag students are responsible for.

FFA is a component of an agriculture, food and natural resources program of instruction.  There are 34 FFA chapters in New Jersey with more than 1,828 members. 

FFA is a national youth organization of 507,763 student members with 7,439 local chapters in all 50 states, Puerto Rico and the Virgin Islands.

Agricultural education prepares students to enter careers in the business, science and technology of agriculture.