Home
>
News
>
Press Releases
>
2009
>
HARRISON HIGH SCHOOL NAMED BEST IN STATE FOR SCHOOL NUTRITION BY NJ DEPARTMENT OF AGRICULTURE
HARRISON HIGH SCHOOL NAMED BEST IN STATE FOR SCHOOL NUTRITION BY NJ DEPARTMENT OF AGRICULTURE
NJDA, Jets, Dairy Council Eat Right, Move More Program in Fourth Year
For Immediate Release: November 17, 2009
Contact: Lynne Richmond
(609) 633-2954

(HARRISON) – New Jersey Secretary of Agriculture Douglas H. Fisher and New York Jets offensive tackle D'Brickashaw Ferguson announced today that schools in Harrison, Allendale, Elmwood Park, Gloucester City, Summit and Tewksbury Township are this year's winners of the Eat Right, Move More contest.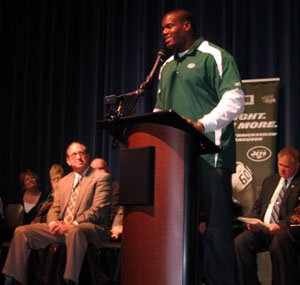 Fisher and Ferguson visited the grand prize winner, Harrison High School in the town of Harrison for a special program and to present the school with a check for a $5,000 kitchen makeover, made possible by the Jets and the American Dairy Association & Dairy Council's Fuel Up to Play 60 campaign.  School officials plan to use the money to purchase a refrigerated salad bar. 



Fisher and Fergson at the Eat Right, Move More program at Harrison High School

"The Eat Right, Move More program has helped to create a lot of excitement for both students and school administrators around the state over the last few years for eating the healthy foods available every day on the lunch line," said Secretary Fisher.  "We applaud Harrison High School and the other schools that are doing an exemplary job at using our state's high nutrition standards to make school lunch fun and interesting and stepping up their students' activity levels."

The Eat Right, Move More program, a partnership between the Jets, the Department of Agriculture and the American Dairy Association & Dairy Council's Fuel Up to Play 60 campaign, encourages New Jersey school children to take advantage of healthy foods in their school cafeterias and become more active.  This year, schools had to show strong support and use of locally-grown products in their school meal menus, as well as demonstrate efforts to improve nutrition and physical activity among their students.

"Being able to award $5,000 to improve the kitchen at Harrison High School is exciting because it shows the success of the Eat Right, Move More program," said D'Brickashaw Ferguson. "I am confident that over the past four years this initiative has changed the lives of many students and this makeover will only continue to help that cause."

This is the fourth year of the Eat Right, Move More Program, with Ferguson as spokesman.  The campaign features posters of Ferguson in every school telling students, "Eating healthy meals helps me play my best.  Your school cafeteria has a variety of nutritious foods to keep you going all day long.  So let's get up and Eat Right and Move More!"

Harrison High School has a strong affinity for the New York Jets – one of the school's graduates, Ray Lucas, was a quarterback for the team from 1997-2000.  The school used JETS as an acronym for Jersey, Eggplant, Tomatoes and Spinach, which they said they would purchase locally for use on their new salad bar.  A handout of this acronym was created and posters will be made to decorate the cafeteria.  Lettuce, peppers, apples and peaches also will be featured on the salad bar.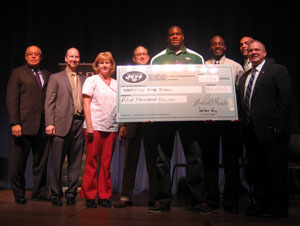 Steve Olencki of Pomptonian, the Harrison School District's food service company, said students would be able to use the salad bar for their meals and also to create their side salads along with other entrées.  Harrison High School Assistant Principal Thomas Carney said their goal is to obtain higher student participation in fresh foods.

Frederick Confessore, Asst. Harrison School Superintendent; Mark Vidovich of Pomptonian Food Service; Kimberly Woods, Harrison Board of Education President; Secretary Fisher; Ferguson; Charles Wande of the NY Jets; Ray Lucas, former NY Jet and Harrison HS graduate; Dr. James Doran, Harrison School Superintendent

"Direct correlations do exist between nutritional awareness, coordination of food preparation/presentation and improved attendance/performance scores of children involved in forward thinking programs that maximize institutional and organizational priorities," said Carney.  "This contribution will be a welcome addition to our comprehensive mission and will increase the possibility of successful implementation of core educational projects within our district."

In addition to the visit and kitchen makeover, as the grand prize winner Harrison High School will be recognized on field at the Jets home game versus the Atlanta Falcons on December 20.  Harrison High School also was the recipient of a school food service federal stimulus grant from the Department of Agriculture this year, which provided for the purchase of heat slides for burgers and other sandwiches in the school cafeteria.

The other winning schools, Brookside School in Allendale, Elmwood Park Memorial High School/Middle School in Elmwood Park, Cold Springs School in Gloucester City, Summit High School in Summit and Old Turnpike School in Tewksbury, will get visits from a Jets player later in the school year.

Programs funded by the New York Jets Foundation touch the lives of countless young men and women in the tri-state area. Over the past nine years, the Jets and their charitable foundation have donated or contributed more than $8 million to promote youth health, fitness and education, particularly in disadvantaged communities. From fighting childhood obesity through the Generation Jets: Be Lean & Green initiative to launching a football team in a Harlem high school, urging students to eat right and move more, and supporting the efforts of the Alliance for Lupus Research, the New York Jets invest in programs that make a difference in the lives of others. In addition to the Jets Foundation, which supports their own extensive youth initiatives, the Jets partner with numerous established charitable organizations and participate in causes sponsored by the NFL.

The Department of Agriculture's school nutrition policy is the most comprehensive in the nation and covers pre-kindergarten through 12th grade students.  The policy limits fat and sugar content in foods offered in a la carte lines, snack bars and vending machines, school stores and as part of on-campus fund-raisers.

More than 663,000 students in both public and private schools participate in the National School Lunch Program, administered by the Department of Agriculture.

For more information about the Department's school nutrition programs, visit www.nj.gov/agriculture/divisions/fn/childadult/school.html.