SECRETARY HELPS IN THANKSGIVING TURKEY DISTRIBUTION
Dramatic Increase in Need Seen Throughout the State; Secretary Urging Public to Donate
For Immediate Release: November 25, 2009
Contact: Lynne Richmond
(609) 633-2954

(WESTAMPTON) – The goal of the Family Service Food Pantry in Westampton is to make sure food doesn't have to be a choice in these troubled economic times.  To assist in those efforts, New Jersey Secretary of Agriculture Douglas H. Fisher today joined pantry volunteers to ensure that more than 500 families are able to share a traditional Thanksgiving dinner this year.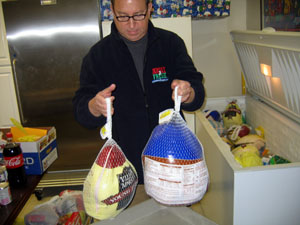 "Job losses, cuts in pay, and other factors have led to a 50 percent increase in the number of people seeking food assistance this year throughout New Jersey, which makes donating to your local food bank or pantry even more vital now and through the coming months," said Secretary Fisher.  "The ability to sit down together for the Thanksgiving meal of a turkey and fixings can help families feel like they are not alone and can give them hope for the future."

Family Service Food Pantry collected more than 500 turkeys from the Food Bank of South Jersey, Moorestown Schools and the general public.  Many of the turkey dinners picked up from the pantry were delivered to the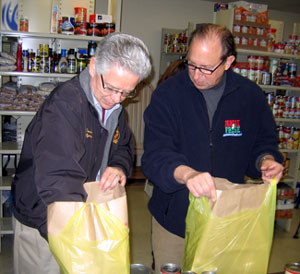 homes of those in need by volunteer groups.  Last year, 250 turkey dinners were distributed at the pantry.

The organization opened its food pantry in 2007 and has seen a large increase in the number of those seeking food assistance from both their clients and the community at large.  Those coming to the pantry receive a 3-5 day food supply once a month or in emergency situations.

Assemblyman Jack Conners and Secretary Fisher pack Thanksgiving dinner items at Family Service Food Pantry

"It seems like clients have to choose between buying their medicine and buying food," said Gabrielle Rodriguez of Family Service Food Pantry.  "At the pantry, clients can get the necessities and they don't have to worry about food."

The pantry serves more than 2,000 meals per month.  Family Service is a private, non-profit community agency serving the behavioral healthcare needs of children, individuals and families in central and southern New Jersey.

In other areas of the state, for instance, Community FoodBank of New Jersey in Hillside reported that in spite of recording their largest weekly distribution in their 27 year history of 1,010,194 pounds of food from November 16 to 21, they are still unable to keep up with the need.

In addition, President Obama, in conjunction with the Corporation for National and Community Service and the United States Department of Agriculture (USDA), yesterday launched "Feed A Neighbor" to help combat hunger this winter. The new initiative provides people with a volunteer toolkit to help them get actively involved in the fight against hunger in their communities.  President Obama has said he is committed to eliminating childhood hunger by 2015 and reversing the trend in rising hunger through a comprehensive approach of volunteerism, donations and advocacy.

The USDA recently announced the findings of its annual Household Food Security study, which said that 14.6 percent (17 million) of U.S. households had difficulty providing enough food for all their members due to a lack of resources at some time during 2008.  That number was up from 13 million households in 2007.  The study also found that 6.7 million households reported that the food intake of some household members was reduced and their normal eating patterns were disrupted last year.

The New Jersey Department of Agriculture administers two major emergency food distribution programs in the state:  The Emergency Food Assistance Program (TEFAP) and the State Food Purchase Program (SFPP).  TEFAP delivers food donated by the USDA to those in need through a network of 793 food pantries, soup kitchens and homeless shelters.  SFPP distributes state funds to the six regional food banks to purchase nutritious foods for distribution to the local agencies.  On October 22, checks totaling $945,116 were sent to the food banks through this program.

To learn more about Family Service Food Pantry, visit www.fam-serv.org/food-pantry.html.

To locate a food bank or food pantry or to find out how to volunteer, visit: www.nj.gov/agriculture/divisions/fn/fooddistrib/foodpurchaseprogram.html.