HARRISON HIGH SCHOOL HONORED FOR NUTRITION PROGRAM DURING NEW YORK JETS GAME
Partnership with NY Jets Foundation Touches theLives of Countless Young People in Tri-State Area
For Immediate Release: December 23, 2009
Contact: Lynne Richmond
(609) 633-2954

(EAST RUTHERFORD) – Seven Harrison High School football players and their Assistant Coach were honored Sunday by the New York Jets and the New Jersey Department of Agriculture during the Jets/Atlanta Falcons football game at the Meadowlands.

Harrison High School was the grand prize winner of this year's Eat Right, Move More contest, which challenged schools to explain how they have shown strong support and use of locally-grown products in their school meal menus, as well as demonstrate efforts to improve nutrition and physical activity among their students.

"Harrison High School has enthusiastically embraced the state's school nutrition policy and plans to do even more in the future to provide students with fresh fruits and vegetables on a daily basis," said New Jersey Secretary of Agriculture Douglas H. Fisher.  "We join with the New York Jets in congratulating school officials and students for their commitment to healthy eating and increasing their activity levels."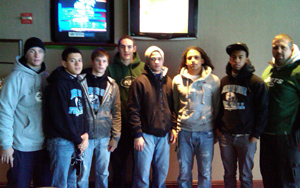 Attending the game were students Luis Aviles, Rahim Douelfaker, D.J. Krusznis, Danny Nankivell, David Passos, Ralphie Rivera, and Ricky Touzet and Assistant Football Coach, Nick Landy.  The group was treated to a VIP lunch at the stadium before the game and was honored on the stadium Jumbotron during the second quarter. 

"Five of the students had never been to a professional football game before, let alone treated to lunch in the VIP area, so the whole experience was a great moment to add to their memories of the football season," said Landy.  "It was pretty exciting when our names were announced during the game – the students felt very proud to represent their school."

Besides being honored at the football game, Jets Offensive Tackle D'Brickashaw Ferguson, the Eat Right, Move More spokesman, visited the school on November 17, along with Secretary Fisher, and presented the school with a check for $5,000, which the school is using to purchase a salad bar.  Students will be able to use the salad bar to make a main course salad or a side salad to go along with their hot meals.

In its fourth year, the Eat Right, Move More program, a partnership between the Jets, the Department of Agriculture and the American Dairy Association & Dairy Council's Fuel Up to Play 60 campaign, encourages New Jersey school children to take advantage of healthy foods in their school cafeterias and become more active.

The other winning schools in the Eat Right, Move More contest, Brookside School in Allendale, Elmwood Park Memorial High School/Middle School in Elmwood Park, Cold Springs School in Gloucester City, Summit High School in Summit and Old Turnpike School in Tewksbury, will get visits from a Jets player later in the school year.

The Department of Agriculture's school nutrition policy is the most comprehensive in the nation and covers pre-kindergarten through 12th grade students.  The policy limits fat and sugar content in foods offered in a la carte lines, snack bars and vending machines, school stores and as part of on-campus fund-raisers.

Programs funded by the New York Jets Foundation touch the lives of countless young men and women in the tri-state area. Over the past nine years, the Jets and their charitable foundation have donated or contributed more than $8 million to promote youth health, fitness and education, particularly in disadvantaged communities. From fighting childhood obesity through the Generation Jets: Be Lean & Green initiative to launching a football team in a Harlem high school, urging students to eat right and move more, and supporting the efforts of the Alliance for Lupus Research, the New York Jets invest in programs that make a difference in the lives of others. In addition to the Jets Foundation, which supports their own extensive youth initiatives, the Jets partner with numerous established charitable organizations and participate in causes sponsored by the NFL.