SECRETARY OF AGRICULTURE SERVES CHRISTMAS MEALS AT BRIDGETON SOUP KITCHEN
About 30,000 meals are served at St. Vincent DePaul's soup kitchen in Bridgeton each year
For Immediate Release: December 23, 2009
Contact: Lynne Richmond
(609) 633-2954

(BRIDGETON) – New Jersey Secretary of Agriculture Douglas H. Fisher pitched in today to help serve a Christmas lunch to more than 250 people at the Society of St. Vincent dePaul soup kitchen in Bridgeton.

"For many people who have been impacted by the downturn in the economy, being able to share a holiday meal with others could help to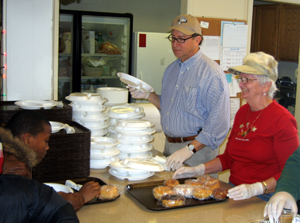 brighten the season for them," said Secretary Fisher.  "Agencies such as the Society of St. Vincent dePaul and other churches and organizations that provide meals for people in need have a tremendous impact on those they serve.  The state and federal governments do what they can, but it really comes down to neighbors helping neighbors."

Secretary Fisher and volunteer Pearl McHugh help out at the soup kitchen.

At Thanksgiving, the St. Vincent DePaul soup kitchen served 193 meals.  Monday through Friday, the poverty-stricken, homeless and disadvantaged of the area are served a hot lunch with an average of 140 meals served each day, up from 82 just two years ago.  In total, about 30,000 meals are served at the soup kitchen each year.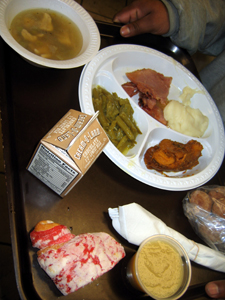 "We can afford to do what we do thanks to the kindness of the other churches and organizations in the area," said Ann Budde, who organizes the soup kitchen.  "A warm, giving community has allowed us to accommodate the large increase in those seeking assistance that we've seen in the last couple of years."

The soup kitchen – which has been in operation for 30 years -- is a recipient throughout the year of food from the Department of Agriculture's Emergency Food Assistance Program, which distributes food donated by the United States Department of Agriculture through a network of 793 food pantries, soup kitchens and other feeding operations.  Last year, the Department distributed almost 9.1 million pounds of the USDA commodities.

Budde said the soup kitchen also receives food purchased with funding from the State Food Purchase Program.  This year, the Governor and Legislature allocated $3.9 million for the state's six emergency feeding operations to buy food for the local agencies.  In 2006, $1 million was included for infrastructure improvements at food pantries and soup kitchens.  The soup kitchen in Bridgeton received a three-well sink through that program.

The USDA recently announced the findings of its annual Household Food Security study, which said that 14.6 percent (17 million) of U.S. households had difficulty providing enough food for all their members due to a lack of resources at some time during 2008.  That number was up from 13 million households in 2007.  The study also found that 6.7 million households reported that the food intake of some household members was reduced and their normal eating patterns were disrupted last year.

For more information on the Department of Agriculture's Food Distribution Programs, visit www.nj.gov/agriculture/divisions/fn/fooddistrib/.