NJ STATE FFA OFFICERS LEARN ABOUT IMPORTANCE OF GLOBAL AGRICULTURE AT INTERNATIONAL SEMINAR
For Immediate Release: January 20, 2011
Contact: Lynne Richmond 
(609) 633-2954

(TRENTON) – State FFA President Eric Nelson, Secretary Alec McAlarnen and Parliamentarian Julianne Robinson traveled to Argentina January 4 - 14 for the International Leadership Seminar for State Officers, bringing back with them a deeper understanding of the responsibility that young people in agriculture have to feed the world's ever-growing population.

The officers joined 63 other FFA state officers from 18 other states and Puerto Rico on the trip, sponsored by Bunge North America, a global agri-business and food company.

"Giving students like me the opportunity to see what agriculture is like around the world prepares us to take on that challenge as we enter the future," said Nelson, a college student who hopes to teach agriculture.  "It really helped me realize how much the entire world is going to need to work together to keep the world fed and to advance the agricultural industry."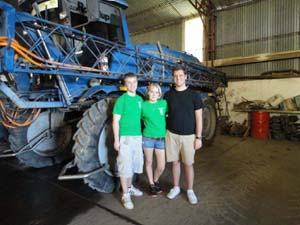 The seminar included farm, port and agribusiness tours, meetings with farm families, and sightseeing. 


Eric, Julianne and Alec visited farms and saw farm implements during their trip.





"My favorite experience of the trip was visiting a three generation family farm, where they raised Hampshire down sheep," said McAlarnen, who hopes to become a teacher.  "I was able to converse with the family about the struggles of keeping the farm afloat in hard economic times."

All agreed the trip was educational and eye-opening, highlighting how different, yet similar Argentina's agriculture is to New Jersey's.

"I got the opportunity to see what agriculture is like on a global level," said Robinson, who plans to obtain a degree in agribusiness.  "Throughout the adventure we learned about: Bunge operations in Argentina, difficulties that local farmers face, livestock marketing strategies, Argentine culture and much more."

The state officers encouraged other FFA members to take advantage of the opportunities provided by the FFA organization and to step out of their comfort zones and explore the world.

There are 1,810 FFA members in 34 chapters in New Jersey and, nearly 40 school districts with ag education programs, with close to0 3,000 students enrolled in those programs

FFA is a national youth organization that uses agricultural science education to develop students' potential and help them discover their talent.

For more information on New Jersey FFA, visit www.jerseyageducation.nj.gov.