SOUTHWOOD ELEMENTARY SCHOOL MEETS HEALTHIER U.S. SCHOOL CHALLENGE
Federal, State, Local Officials Present School with Award
For Immediate Release: January 28, 2011
Contact: Lynne Richmond
(609) 633-2954

(OLD BRIDGE) – United States Department of Agriculture and New Jersey Department of Agriculture Food and Nutrition officials today presented Southwood Elementary School in Old Bridge with a $500 prize for earning the HealthierUS School Challenge Award.

"We are very proud of Southwood Elementary School for attaining this recognition for its ongoing commitment to good nutrition for its students," said Janet Hawk, NJDA Acting Food and Nutrition Division Director.  "New Jersey schools have placed an emphasis on healthier food options since the implementation of the statewide nutrition policy, which set standards for food and beverages being offered on school property.  We encourage all New Jersey schools in the National School Lunch Program to participate in the Challenge."

The HealthierUS School Challenge (HUSSC) is a voluntary national certification initiative for schools participating in the National School Lunch Program.  It supports First Lady Michelle Obama's Let's Move campaign by recognizing schools that are creating healthier school environments through their promotion of good nutrition and physical activity.  Sponsored by the USDA Food and Nutrition Service (FNS), the initiative encourages all schools to take a leadership role in helping students to make healthier eating and physical activity choices that will last a lifetime. 

" Southwood Elementary School's HealthierUS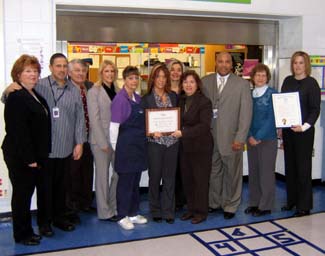 School Challenge achievement demonstrates the deep commitment to create and maintain a healthy school environment by promoting good nutrition and physical activity," said Barbara Martin, Deputy Director of Special Nutrition Programs, USDA Food and Nutrition Service.  "This event helps highlight the importance of children and communities in New Jersey getting involved."
Old Bridge School Board members Annette Hopman, Eugene Donofrio and Matt Sulikowski, Dorian Sano, Mary Stevens and Michelle Feliciano of Sodexo, Jill Niglio of the NJDA, Barbara Martin of USDA, Principal Raymond Payton, Janet Hawk of NJDA and Leigh Maris from Assembywoman Handlin's office.

Southwood Elementary School Principal Raymond E. Payton said they decided to participate in the challenge because it's the direction they wanted to take the district – to increase awareness of healthier foods, educate their students on nutrition and get the students more involved in physical activity.  He said they've gotten a positive reaction to adding more whole grains, beans, and dark green and orange vegetables to the menu.

"It is important for the school and has always been the initiative of the district's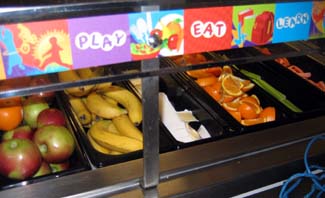 food service company, Sodexo, to concentrate on good nutrition and physical activities due to the increasing rate of childhood obesity," said Payton.  "We need to start making changes and hopefully these changes in the elementary schools will stay with the students throughout their school years."

Applications for the Healthier US School Challenge have already been prepared for the 11 other Old Bridge District elementary schools.

Ultimately, FNS would like to see all schools receive a HUSSC award at any one of the four levels of superior performance:  Bronze, Silver, Gold, or Gold Award of Distinction.  Schools awarded receive a monetary incentive (Bronze $500, Silver $1,000, Gold $1,500, and Gold Award of Distinction $2,000), an award plaque signed by a USDA official, a banner to display in their school, and their name listed on the Team Nutrition Web site.

To qualify for an award, a school must submit a formal application and meet basic criteria set forth by the FNS.  The HUSSC criteria reflect the recommendations of the 2005 Dietary Guidelines for Americans, and the Institute of Medicine (IOM) published recommendations (April 2007) for foods that should be served in schools, outside of the organized school lunch meals.  HealthierUS Schools must also have a local school wellness policy, as mandated by Congress.  Schools receiving a HUSSC award commit to meeting the criteria throughout their four year certification period.

Schools, such as Southwood Elementary School, that champion the HUSSC work hard to make changes to their school nutrition environment in order to (1) improve the quality of the foods served, (2) provide students with nutrition education, and (3) provide students with physical education and opportunities for physical activity. 

For more information on the HealthierUS School Challenge, visit www.fns.usda.gov/tn/healthierus/index.html.

For more information on New Jersey's school nutrition policy, visit: www.nj.gov/agriculture/divisions/fn/childadult/school_model.html.