DRAZIN, LUCHENTO SHARE HORSEPERSON OF THE YEAR TITLE
Honored for Their Joint Efforts to Bolster Racing Industry in NJ

For Immediate Release: February 1, 2011
Contact: Lynne Richmond 
(609) 633-2954              

(EASTAMPTON) – Dennis A. Drazin, Chairman of the New Jersey Racing Commission, and Thomas Luchento, President of the Standardbred Breeders and Owners Association of New Jersey, were presented with the 2010 Governor's Trophy for co-Horseperson of the Year on Sunday, January 30 at the 54th Annual New Jersey Breeder's Luncheon in Eastampton.

"Horse racing is an important part of New Jersey's $4 billion overall equine industry," said New Jersey Secretary of Agriculture Douglas H. Fisher.  "Mr. Drazin and Mr. Luchento have worked hard on behalf of the horse breeders and racing industry of the state and deserve this recognition."

Drazin, President of the law firm of Drazin and Warshaw, P.C., was appointed chairman of the Racing Commission by Governor Chris Christie.  He is a second-generation horseman who has been a thoroughbred owner and breeder since 1980.  He served as President of the New Jersey Thoroughbred Horsemen's Association and founded the organization's political action committee, responsible for significant legislation that has helped the horse industry in New Jersey.  Drazin also helped design and implement the 50 day/$50 million Monmouth Park Meet during the summer of 2010, which was a huge success and exceeded all projections.

Luchento, former owner of Luchento's Country Italian Restaurant in Millstone,  has been president of the Standardbred Breeders and Owners Association for six years.  He, along with Drazin, has lobbied for the state's racing industry.  While in high school, Luchento apprenticed under Anthony Abbatiello at his standardbred farm in Colts Neck.  Luchento started his own stable when he was 20 and went on to drive and train horses that raced at Atlantic City Raceway, Freehold Raceway and the Meadowlands.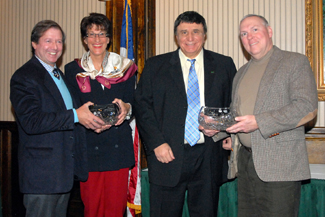 Left to Right, Dennis Drazin, Karyn Malinowski, Thomas Luchento and Assistant Secretary of Agriculture Al Murray

In addition to the Governor's Trophy, the annual Breeder's Luncheon celebrated the state's best in the equine field in 2010.  Other awards presented at the event were:

Secretary of Agriculture Award for the New Jersey Standardbred of the Year:  Rock N Roll Heaven.  The three-year-old Pacer and son of Rocknroll Hanover won 16 races in 2010, including the $200,000 New Jersey Sire Stakes Championship at the Meadowlands.  He earned a career total of $2,748,818 for owner Frank J. Bellino of Bronxville, N.Y.  Rock N Roll Heaven was trained by Bruce Saunders and driven in most of his starts by Daniel Dube.

Secretary of Agriculture Award for the New Jersey Thoroughbred of the Year:  Love That Dance.  The 4-year-old daughter of Not For Love was the winner of three of her seven starts in 2010.  Her most impressive performance of the year was winning the $100,000 Eleven North Handicap at Monmouth Park by 8 and a half lengths in September.  She finished the year with $241,450 in earnings bringing her lifetime total to $511,744.  She is owned and bred by John Petrini and trained by Ben Perkins Jr.

New Jersey Sire Stakes Horse of the Year:  Put On A Show.  The three-year-old pacer and daughter of Rocknroll Hanover earned $205,900 in New Jersey-sired competitions in 2010 and $1,161,167 overall.  She is owned by Craig Henderson of Chicago and Richard and Joanne Young of Coconut Creek, FL, and was trained by Chris Ryder and driven by Tim Tetrick.

New Jersey Agricultural Achievement Award: Bria Cherelle Barnes, Scotch Plains.  The Union County 4-H member was awarded with a $500 scholarship, sponsored by Amy Butewicz, a former New Jersey Equestrian of the Year who wanted to give back to the community.  Barnes, a Scotch Plains-Fanwood High School senior who plans to go into nursing, was selected based upon her essay, which answered the question: "How has your involvement within 4-H helped to shape your future career choice?"

Sara Dubinin Scholarship:  Samantha Canino, Lumberton.  The avid horse lover and President of Winning Waggers 4-H Club in Burlington County was the winner of a $1,000 scholarship in memory of Sara Dubinin, a Sayreville equestrian who was the victim of a car accident in 2007.  Canino, a Lake Erie College student, was selected based on her essay on "How horses have affected my life and how horses figure into my future." 

New Jersey Equestrian of the Year: Anna Matthews, Belvidere, representing the New Jersey 4-H Program.    Matthews, 17, a home-schooled 12th-grader, has been involved with 4-H for eight years.  She was 2010 New Jersey State 4-H Equestrian of the Year and Warren County 4-H Equestrian of the Year.   Matthews was chosen based on her ability to communicate and her knowledge of horses, as well as being well-versed in many phases of the horse industry.