NJ YOUNG FARMERS TOPS IN THE NATION THREE YEARS IN A ROW
2011 New Jersey Outstanding Young Farmer One of Four National Honorees


For Immediate Release: February 28, 2011
Contact: Lynne Richmond            
(609) 633-2954

(TRENTON) – For the third year in a row and the fifth time in the last 11 years, a New Jersey farmer has been chosen as a National Outstanding Young Farmer. 

John Melick, a fruit and vegetable farmer from Oldwick, Hunterdon County, was named one of the four 2011 National Outstanding Young Farmers on February 19 by the United States Junior Chamber (Jaycees) at their Awards Congress in Louisville, Kentucky.

"New Jersey boasts some of the finest, most innovative farmers in the nation and John Melick is a talented and motivated leader in our industry who deserves to be recognized," said New Jersey Secretary of Agriculture Douglas H. Fisher.  "Our young farmers go up against farmers from states known for their agriculture in this competition, and shine year after year.  Their successes have helped to show what we already know – that New Jersey is a unique and diverse agriculture state that is often the trailblazer in technologies and research that advances the entire industry."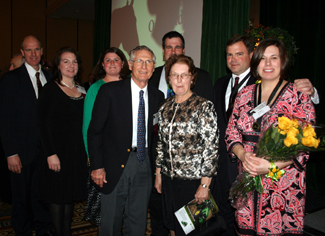 Left to right, Jeff and Tracy Vander Groef, NJ and National OYF 2005; in back, Debbie and Richard Norz, NJ and National OYF 2010; in front, John and Martha Hubschmidt, 1966 NJ OYF and National OYF Finalist; John and Stacy Melick.  

Richard A. Norz from Hillsborough and H. William Sytsema from Wantage, were 2010 and 2009 New Jersey Outstanding Young Farmers who went on to become national winners.   Since 1999, every New Jersey Outstanding Young Farmer has been among the top 10 National Outstanding Young Farmers, as well. 

Melick and his wife, Stacy, competed against nine other finalists for the four top positions.  The Melicks, along with Ryan and Michelle Keller of Wisconsin, Chad and Danielle Budy of Oklahoma and Joe and Dawn Geremia of Connecticut were selected as national winners, representing the fruit and vegetable, dairy, wheat, alfalfa, cow/calf, and greenhouse industries.  The four couples will travel to Washington D.C. in March to meet with United States Secretary of Agriculture Tom Vilsack during National Agriculture Week.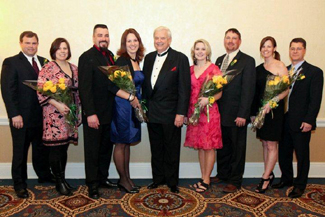 John and Stacy Melick, Ryan and Michelle Keller, Orion Samuelson - Agribusiness Director on WGN Radio in Chicago, Danielle and Chad Budy and Dawn and Joe Geremia.

"We're all farmers and they are dealing with a lot of the similar issues that we are," said Melick of his experience in the final competition.  "There is definitely a proud sense that we're feeding not only our country, but the world."

John Melick is a tenth-generation farmer, who, after earning a civil engineering degree and working in that field, returned to the family farm full-time.  He has helped expand Melick's Town Farm to include two all-season markets and a third rented farm market; participation in 10 community farmers markets; and, more pick-your-own.

Melick has helped foster technological advances at the farm, using drip irrigation, resulting in a 67 percent water savings; integrated pest management, reducing pesticide application rates; and using UV to treat the farm's apple cider, eliminating the need for heat pasteurization.

"It takes extraordinary people to farm in the Northeast because land values are high and there's a lot of development pressure," said Melick.  "You've got to love it and be dedicated to it.  You have to find your niche to be successful."

Outstanding Young Farmer nominees must be farm operators, deriving a minimum of two-thirds of their income from farming and must be between the ages of 21-40, not becoming 41 prior to the National OYF Awards Congress.  The OYF program is the oldest farmer recognition program in the United States, selecting its first group of national winners in 1955. The goals of the OYF program are to foster better urban-rural relations through the understanding of farmers' challenges, as well as the appreciation of their contributions and achievements; to bring about a greater interest in farmers/ranchers; and to help build an urban awareness of the farmers' importance and impact on America's economy. 

The National OYF program is sponsored by Deere & Company, supported by the Outstanding Farmers of America (OFA) Fraternity and the National Association of County Agriculture Agents (NACAA), and administered by the United States Junior Chamber of Commerce.

For more information about the New Jersey Outstanding Young Farmer Program, visit www.nj.gov/agriculture/about/sba/cover.html.