Home
>
News
>
Press Releases
>
2011
>
IMPORTANCE OF A HEALTHY BREAKFAST STRESSED DURING SCHOOL BREAKFAST WEEK VISIT TO WEST NEW YORK SCHOOL
IMPORTANCE OF A HEALTHY BREAKFAST STRESSED DURING SCHOOL BREAKFAST WEEK VISIT TO WEST NEW YORK SCHOOL
For Immediate Release: March 11, 2011
Contact: Lynne Richmond
(609) 633-2954

(TRENTON) – New Jersey Secretary of Agriculture Douglas H. Fisher and Patricia Dombroski, United States Department of Agriculture (USDA), Food and Nutrition Service Mid-Atlantic Region Administrator today shared a breakfast of whole grain bagels, cereal, fresh fruit and fruit juice with students at West New York Public School #2.  They visited the school to celebrate National School Breakfast Week, which took place March 7-11.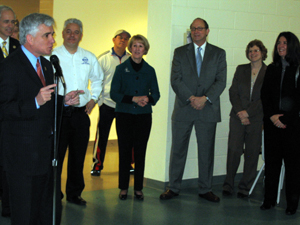 Mayor Silverio Vega, School Food Service Dir. Sal Valenza, USDA Food and Nutrition Service Mid-Atlantic Region Administrator Patricial Dombroski, Secretary Fisher, NJDA's Janet Hawk and NJDA Food and Nutrition Division Director Rose Tricario stressed the importance of eating a healthy breakfast before school.

"Eating a healthy breakfast is the best way for students to start their day to ensure they are able to learn at optimum levels," said Fisher.  "We are working with USDA to increase the number of students who have breakfast available in school, and also make it easier for students to participate in the program."

About 100 of the 650 School #2 students eat breakfast in the cafeteria before school begins each day.  District-wide, about 900 of the 4,500 students participate daily.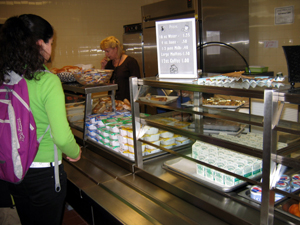 There are 1,833 school breakfast programs in New Jersey, with an average daily participation of 173,735 this school year --that's a 3.8 percent increase over the 2009-2010 school year. 

"Participation in the School Breakfast Program is an important vehicle to meet the nutritional needs of children," said Dombroski. "Thanks to the Healthy, Hunger-Free Kids Act, we'll be able to enroll many more children in our school feeding programs and greatly improve the quality of meals served in schools." 

The Healthy, Hunger-Free Kids Act's legislative centerpiece is improving child nutrition. Signed into law in December  2010, this legislation authorizes USDA's child nutrition programs, including the National School Lunch Program, which serves nearly 32 million children each day.

"The link between nutrition and learning is well established," said John Fauta, West New York Superintendent of Schools.  "Studies have shown that children who eat a good breakfast do better in school than children who do not.  We, at the West New York School District, believe that students who eat a good breakfast will not only have improved academic performance but also behave better in school.  In an urban school setting, increased participation in a breakfast program is a necessity as this program provides nutritious meals to children who might otherwise not eat breakfast."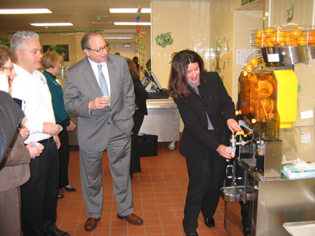 NJDA Food and Nutrition Division Director Rose Tricario demonstrates School #2's fresh-squeezed orange juice machine as School Food Service Director Sal Valenza and Secretary Fisher look on.

Currently, School #2 is one of three schools in the district participating in the federally-funded Fresh Fruit and Vegetable Program, administered by the New Jersey Department of Agriculture.  The program provides fresh produce to students free of charge, to increase their fruit and vegetable consumption.  Almost all of the produce for the program is purchased from New Jersey farmers.

School #2 received Silver Level recognition by the Alliance for a Healthier Generation, an organization formed to address the childhood obesity.  The school also is in the process of installing two school gardens to teach students about healthier lifestyles –  a reading garden in the school's courtyard through a grant from Lowe's and a container garden in the entryway, through a partnership with City Green, a non-profit which assists with the establishment of community and school gardens.  In addition, all West New York public schools received a Target Field Trip Grant, which will be used to bring students to Fernbrook Farms education center in Chesterfield Township to learn about Garden State agriculture.

National School Breakfast Week is an initiative of the School Nutrition Association, launched in 1989 to raise awareness about the availability of the USDA's School Breakfast Program and increase participation, both by schools and students.

For more information on the School Breakfast Program, visit www.nj.gov/agriculture/divisions/fn/childadult/school_breakfast.html.

To learn more about the state's Fresh Fruit and Vegetable Program, visit www.nj.gov/agriculture/divisions/fn/childadult/fruitandvegetable.html.