OLD BRIDGE ELEMENTARY SCHOOLS HONORED FOR NUTRITION, PHYSICAL ACTIVITY INITIATIVES
Federal, State, Local Officials Present Schools with Award

(OLD BRIDGE) – United States Department of Agriculture and New Jersey Department of Agriculture Food and Nutrition officials today presented 11 of the 12 elementary schools in the Old Bridge School District with the HealthierUS School Challenge Award.

All schools in the district have attained the Bronze Level of the award, which earned the district $500 per school.  Southwood Elementary School was presented with its prize in January.

"We applaud the Old Bridge Township School District for placing a high priority on the importance of good nutrition and exercise to ensure students are equipped to do their best in school," said Rose Tricario, New Jersey Department of Agriculture Division of Food and Nutrition Director.  "New Jersey's stringent nutrition standards put all schools in the state on track to earn this award, which recognizes schools that promote good nutrition and physical activity.  Even so, we encourage schools to even more to reach higher levels of the award."

The HealthierUS School Challenge (HUSSC) is a voluntary national certification initiative for schools participating in the National School Lunch Program.  Sponsored by the USDA Food and Nutrition Service (FNS), the initiative encourages all schools to take a leadership role in helping students to make healthier eating and physical activity choices that will last a lifetime. 

"As winners of the HealthierUS School Challenge Bronze Awards, these schools are among the very best, going above and beyond the minimum requirements to help their students lead full and active lives," said Barbara Martin, Deputy Director of Special Nutrition Programs, United States Department of Agriculture Food and Nutrition Service, Mid Atlantic Region.  "It's a reflection of the priority that schoolchildren are in Old Bridge."

The elementary schools that received the award are:  M. Scott Carpenter, Cheesequake, Leroy Gordon Cooper, Virgil I. Grissom, Madison Park, James McDivitt, Memorial, William A. Miller, Walter M. Schirra, Alan B. Shepard, Raymond E. Voorhees.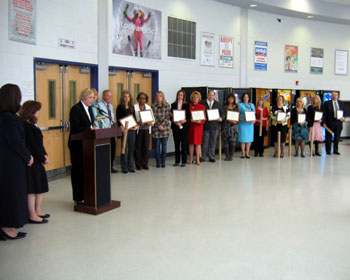 Representatives of the 11 elementary schools proudly display their certificates and HealthierUS School Challenge banners during the awards ceremony.

Donna Kibbler, Old Bridge schools' Director of Elementary Education, said the district is 100 percent committed to combating the cause of childhood obesity and fostering proper nutrition among the students.  She said they're proud of the healthy options the students have to choose from when they come to the cafeteria.

"We want to make sure each child can receive a nutritious meal when they come to school," said Kibbler.  "We have been working hard to ensure each child is receiving nutrition education and has access to nutritious foods such as whole grains, fresh fruits and vegetables and beans."

Ultimately, FNS would like to s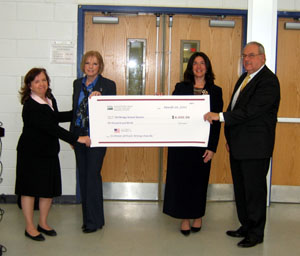 ee all schools receive a HUSSC award at any one of the four levels of superior performance:  Bronze, Silver, Gold, or Gold Award of Distinction.  Schools awarded receive a monetary incentive (Bronze $500, Silver $1,000, Gold $1,500, and Gold Award of Distinction $2,000), an award plaque signed by a USDA official, a banner to display in their school, and their name listed on the Team Nutrition Web site.


Barbara Martin presents check to Nancy Mongon, Old Bridge Schools Business Administrator and Dr. Simon Bosco, Old Bridge Schools Superintendent, along with Rose Tricario

To qualify for an award, a school must submit a formal application and meet basic criteria set forth by the FNS.  The HUSSC criteria reflect the recommendations of the 2005 Dietary Guidelines for Americans, and the Institute of Medicine (IOM) published recommendations (April 2007) for foods that should be served in schools, outside of the organized school lunch meals.  HealthierUS Schools must also have a local school wellness policy, as mandated by Congress.  Schools receiving a HUSSC award commit to meeting the criteria throughout their four year certification period.

Schools, such as Southwood Elementary School, that champion the HUSSC work hard to make changes to their school nutrition environment in order to (1) improve the quality of the foods served, (2) provide students with nutrition education, and (3) provide students with physical education and opportunities for physical activity. 

For more information on the HealthierUS School Challenge, visit www.fns.usda.gov/tn/healthierus/index.html.

For more information on New Jersey's school nutrition policy, visit: www.nj.gov/agriculture/divisions/fn/childadult/school_model.html.