FEDERAL, STATE, LOCAL OFFICIALS CELEBRATE NATIONAL TEACH AG DAY
For Immediate Release: March 31, 2011


Contact:

 Lynne Richmond
(609) 633-2954

(WEST CALDWELL) – New Jersey Secretary of Agriculture Douglas H. Fisher and Marie Barry, Director of Career and Technical Education for the New Jersey Department of Education today visited Essex County Vocational Technical School in West Caldwell to encourage students to consider careers in agricultural education.

"It is important to have well-trained teachers who will supply us with the personnel who are ready to take jobs in our state's high-tech, fast-paced agriculture industry," said Secretary Fisher.  "There currently is a shortage of agriculture teachers so we want students getting ready to choose their career paths to know that agricultural education is not only a rewarding field to go into but one that is in need of motivated individuals."


Fisher and Barry presented a proclamation from Governor Chris Christie proclaiming March 31 as Teach Ag Day in New Jersey.  The goal of Teach Ag Day is to have every agricultural educator in America inform students of the teaching opportunities in agricultural education. 



Essex County Executive Joseph DiVincenzo, Marie Barry, Secretary Fisher, Dr. Robert Goodman, Executive Dean of Rutgers School of Environmental and Biological Sciences and Dr. Michael Pennella, Essex County Vocational Technical Schools Superintendent

"Career and technical education is critical to our nation's economic success," said Marie Barry, Director. "CTE programs, such as those that deal with agriculture, prepare individuals for a wide range of careers to help meet the demands of a global economy."

The National Association of Agricultural Educators reports there currently aren't enough agricultural educators graduating from college each year to fill all the open positions across the United States. Without qualified agricultural educators, agriculture programs may close, and students could lose the opportunity to receive the unique blend of academic and personal development offered by agricultural education.

Essex County Vocational Technical School offers students Introduction to Agriculture, Foods and Natural Resources, the first course in the Curriculum for Agricultural Science Education (CASE), an instructional system that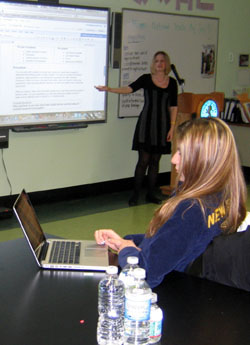 provides intense teacher professional development and curriculum that is changing the culture of agriculture programs.  The CASE Program includes lessons that build on each previous lesson coupled with inquiry-based lesson delivery style, leading students to a higher understanding of big-picture science, technology, engineering and math concepts.  About 75 students are taking the introductory course at the West Caldwell Center.  Seven other schools also have implemented CASE in New Jersey this school year.

West Caldwell Tech agriculture teacher Tiffany Morey teaching a CASE lesson

"Opportunities for a career in Agricultural Science will expand as more and more emphasis is placed on environmental preservation and sustainability," said Essex County Executive Joseph N. DiVincenzo Jr.  "Combining the traditional classroom setting with a 'get your hands dirty' approach in the greenhouse and garden provides our students with real-life experience and head start on a career.  We are proud to have our Essex County Vocational Technical School District used as a model for Agricultural Sciences education." 

West Caldwell Tech Agriculture teacher Tiffany Morey, a first-year teacher with a Masters in Education from Rutgers University, demonstrated a hands-on CASE lesson during today's program.  Over the summer, Morey will take the training for the next CASE course, Principles of Agricultural Science – Plant, which will be offered at the school next year.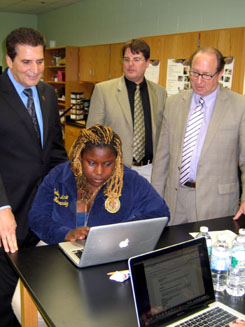 "Our mission is to provide students with a strong foundation for their career path and a well-rounded education that helps them succeed professionally and personally," said Essex County Vocational Technical Schools Superintendent Dr. Michael A. Pennella.  "Our revamped curriculum takes our students beyond the basics and prepares them to a broad spectrum of careers in the agriculture science field.  Today's event is great to recognize our teachers in the agriculture science field and raise awareness for our students. It also allows us to highlight the technical assistance the State has provided us in implementing the new curriculum."

DiVincenzo, John Neyhart, President of the NJ Association of Agricultural Educators and Secretary Fisher watch a student work on a CASE lesson

There are nearly 40 school districts with agricultural education programs in New Jersey, with close to 3,000 students enrolled in those programs.