FFA MEMBERS GET HANDS-ON EXPERIENCE AT AGRICULTURAL EDUCATION COMPETITION
For Immediate Release: April  15, 2011


Contact:

Lynne Richmond            
(609) 633-2954

(TRENTON) – Almost 200 students from 19 schools from around New Jersey yesterday participated in the 87th Annual New Jersey FFA Spring Career Development Events (CDE) on the Cook Campus of Rutgers University in New Brunswick.

The students competed in five areas:  Agricultural Mechanics, Agricultural Sales, Environmental and Natural Resources, Floriculture and Nursery and Landscape. 

"Students who participate in CDEs compete in hands-on activities that test their knowledge and motivate them to reach higher," said New Jersey Secretary of Agriculture Douglas H. Fisher.  "Many of the students commented that they not only used what they already knew, but learned a lot from each of the areas in which they competed."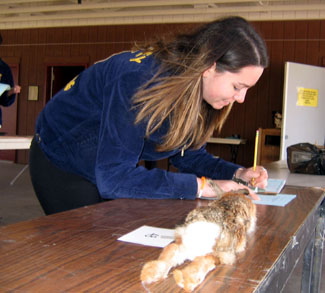 An FFA member participates in the specimen identification competition at the Spring CDE
The Career Development Events were run by volunteers from the state's agricultural industry, who administered timed performance and written tests to the students, who were scored individually and by team. 
The Department of Agriculture organizes Spring, Summer, Fall and Winter CDEs, which give students practical experience using what they have learned in the classroom.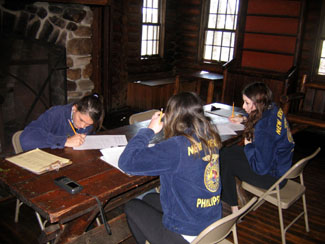 FFA members participate in the press release-writing competition
"I learned a lot of specific skills for this competition, but what I truly learned was that hard work and studying pay off," said Kane Daly of the Cape May Tech FFA Chapter.  "An outstanding part of the competition was observing live specimens for the identification section."
The first-place teams of each event advance to the National FFA competition, held in October in Indianapolis, Indiana.  All winners will be recognized at the New Jersey State FFA Convention in May.  Results from the Spring CDEs will be posted at www.jerseyageducation.nj.gov/agriculture/ag_ed/ffa/career/cderesults11.html.
Agricultural education consists of three equally important components:  Classroom instruction, FFA and Structured Agricultural Experience. 
FFA is a national youth organization that uses agricultural science education to develop students' potential and help them discover their talent.  There are 1,810 members in 34 chapters in New Jersey and 523,309 members in 7,487 chapters across the nation.