Home
>
News
>
Press Releases
>
2011
>
SECRETARY FISHER AND NEW JERSEY AUDUBON UNVEIL THE FIRST "MADE WITH JERSEY GROWN WOOD" PRODUCTS - BIRDHOUSES AND BIRDFEEDERS
SECRETARY FISHER AND NEW JERSEY AUDUBON UNVEIL THE FIRST "MADE WITH JERSEY GROWN WOOD" PRODUCTS - BIRDHOUSES AND BIRDFEEDERS
FOR IMMEDIATE RELEASE: April 19, 2011
Contact:
Susan Adelizzi-Schmidt, ext. 103, or
Joseph Degand, ext. 124
Suasion Communications Group
609-653-0400
Lynne Richmond - NJDA
609-633-2954

(EGG HARBOR CITY, NJ) – New Jersey Secretary of Agriculture Douglas H. Fisher and New Jersey Audubon (NJA) have announced the expansion of the Jersey Grown, Jersey Fresh program to include, for the first time, products made from 100% New Jersey wood. The first products being sold under the "Made with Jersey Grown Wood" label will be birdhouses and birdfeeders produced by NJ Audubon and sold throughout the state of New Jersey. These products have been registered with the NJ Department of Agriculture to carry the Made with Jersey Grown Wood label.

"Consumers who see the 'Made with Jersey Grown Wood' logo on products will immediately know they are supporting New Jersey businesses," said New Jersey Secretary of Agriculture Douglas H. Fisher.  "We are happy to partner with NJ Audubon on the expansion of the Jersey Grown program to first, sunflower bird seed, and now, wood. We urge everyone to ask for Jersey Grown at participating nurseries, garden centers, feed stores and specialty shops."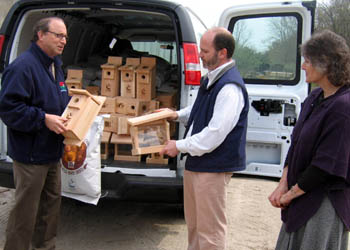 Secretary Fisher and Troy Ettel look at the birdhouses and birdfeeders made of Jersey Grown Wood as NJ State Forester Lynn Fleming looks on.
Participating New Jersey retailers selling NJA "Jersey Grown Wood" products include Basil Bandwagon in Flemington, NJ, Whole Earth Center in Princeton, NJ, Ideal Farms in Lafayette, NJ, Greenland Landscape Company in Paramus, NJ, Wild Birds Seeds and Such in Brielle, NJ, Wild Bird Center in West Caldwell, and Wild Birds Unlimited in Toms River, Red Bank, Cherry Hill, and Sewell, NJ.
The "Jersey Grown Wood" houses and feeders are also being sold at New Jersey Audubon (NJA) stores at locations across the state (Franklin Lakes in Bergen County, Ringwood in Passaic County, Bernardsville in Somerset County, Mount Holly in Burlington County, Cape May/Cape May Courthouse in Cape May County and Plainsboro in Middlesex County).
The feeders and houses – a new initiative by the New Jersey Audubon – are made with Atlantic White Cedar that is sustainably harvested in NJ under a Forest Stewardship Program approved by the NJ State Forest Service; grown and milled at Schairer Brothers, a family-owned sawmill in Egg Harbor City, NJ; and built by Bruce Amey, a carpenter with Harmony Ridge Remodeling in Harmony Township, NJ.
This project uses the "Made with Jersey Grown Wood" label to draw people's attention both to where their wood products come from and how they are harvested; and make people aware that an alternative supply of forest products is available locally. Because Atlantic White Cedar forests are declining in many areas in NJ due to neglect and changes to their environment, active management/stewardship of these forests can play an appropriate and integral role in regenerating and restoring cedar, helping to maintain their health and vigor.
"New Jersey Audubon supports local, family-operated businesses that provide forest and farm products for local use, support the local economies of New Jersey communities, and help secure the future of New Jersey's forest and farmland. When the preservation of natural resources makes economic and ecological sense, our job is a lot easier. Without the knowledge and experience of the people who live and work on the land, true, meaningful and sustainable conservation is impossible," said Troy Ettel, Director of Conservation and Stewardship for New Jersey Audubon.
Using Atlantic White Cedar from NJ forests also eliminates the need for extensive use of fossil fuels in transit.  Nearly all cedar products and lumber for sale in NJ is from Western Red Cedar cut in the western U.S. and Canada.  Using Atlantic White Cedar helps reduce the carbon footprint created from shipping wood from the West coast, while also supporting local NJ businesses.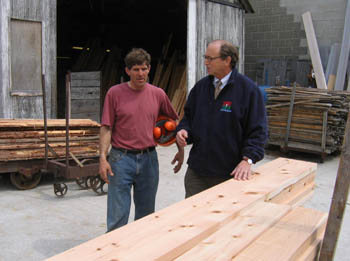 Paul Schairer, sawmill owner, shows Secretary Fisher wood milled from New Jersey-grown trees
The NJ Audubon "Jersey Grown Wood" products are an extension of the organization's S.A.V.E. product line, which started with Jersey Grown sunflower birdseed in 2008. S.A.V.E., which stands for Support Agricultural Viability and the Environment, promotes the production of agricultural products that are economically and ecologically sustainable. The projects are funded through a Conservation Incentive Grant from the Natural Resources Conservation Service of the USDA.
The Forest Stewardship Program (FSP) is a federally funded forest management program designed by the U.S. Forest Service and National Association of State Foresters. The program is intended to encourage management of private forestland for non-commodity benefits, such as wildlife, recreation, aesthetics and water quality, as well as traditional commodities like timber and wood products. Forest Stewardship promotes long-term active management while emphasizing consideration of all the forest resources and benefits.
For more information on the Jersey Grown program, visit www.jerseygrown.nj.gov.
For more information on NJ Audubon "Made with Jersey Grown Wood" birdhouses and feeders, and the retailers and NJA Centers where they can be purchased, visit www.njaudubon.org.
Support for this project was obtained through a Conservation Innovation Grant from the USDA's Natural Resource Conservation Service.