OCEAN COUNTY STUDENTS REPEAT WIN AT STATEWIDE NATURAL RESOURCES, SCIENCE COMPETITION
Will Represent NJ in National Contest
For Immediate Release: May 10, 2011
Contact: Lynne Richmond
(609) 633-2954

(TRENTON) – New Jersey Secretary of Agriculture Douglas H. Fisher today announced, for the second year in a row, students from the Marine Academy of Technology and Environmental Sciences (MATES) in Manahawkin were the winners of the New Jersey Envirothon, held Saturday May 7 at Camp Glen Gray in Mahwah.

The team, consisting of James Geddis of Jackson, Alex Hascha of Brick, Kelsey Lardiere of Manahawkin, Michelle Predi of Barnegat Light, and Ryan Sullivan of Lacey, will represent New Jersey in the 2011 Canon Envirothon at Mount Allison University in Sackville, New Brunswick, Canada in July.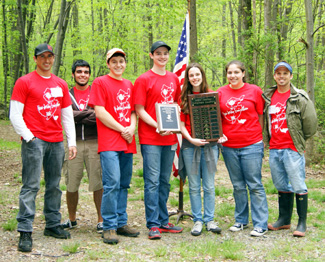 David Werner (Advisor), Ryan Sullivan, Alex Hascha, James Geddis, Michelle Predi, Kelsey Lardiere, and Adam Sprague (Advisor)

The students were the overall winners of the New Jersey Envirothon, competing against 38 other teams on knowledge of natural resources-related topics, including soils, forestry, aquatics, wildlife ecology and a current environmental issue.  This year's Envirothon theme was "Salt and Fresh Water Estuaries."

"Each team spent the school year preparing for the Envirothon by studying environmental, science and natural resources topics, so every student came away a winner with all the knowledge they gained leading up to and including the competition," said Secretary Fisher.  "We urge these bright, motivated students to continue this course of study and consider careers in agriculture and natural resources-related fields."

Each of the MATES team members received $1,000 scholarships from the New Jersey Association of Conservation Districts, $2,000 scholarships from Richard Stockton State College and $1,000 scholarships from Applied and Health Sciences at Kean University.  Hascha, Predi, and Sullivan also were members of last year's winning team.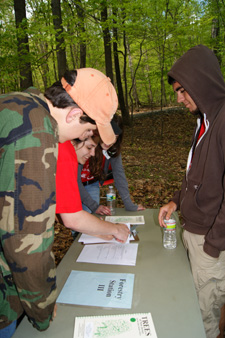 The Envirothon is sponsored by the New Jersey Department of Agriculture, State Soil Conservation Committee; New Jersey Association of Conservation Districts; the 15 Soil Conservation Districts; United States Department of Agriculture, Natural Resources Conservation Service; New Jersey Department of Environmental Protection; and, Rutgers Cooperative Extension.

The 15 Soil Conservation Districts in New Jersey follow county boundaries and implement the New Jersey Soil and Sediment Control Act, which governs certain aspects of new development.  These semi-autonomous bodies are locally governed and play a strong role in the protection of New Jersey's natural resources.


List of Participating Schools

Marine Academy of Technology & Environmental Science,  Manahawkin, 2 teams

Five Guys, Independent Middlesex County team

Princeton High School, 2 Teams

High Tech High School, Essex County, 2 teams, North Bergen

Marine Academy of Science and Technology, Monmouth County, 2 teams

Wayne Valley High School, Wayne

Kittatinny Regional High School, Newton

Watchung Hills Regional High School, Warren

Millville Senior High School, 2 teams

Bridgewater-Raritan High School

McNair Academic High, Jersey City

Delran High School

Middle Township High School, 2 teams

Somerville High School

Moorestown Friends School, 2 teams, Moorestown

Manalapan High School

Biotechnology High School, Freehold, 2 teams

Egg Harbor Township High School, 2 teams

Cedar Creek High School, 2 teams, Egg Harbor City

Montville Township High School

Kinnelon High School, 2 teams

New Providence High School

Triton Regional High School, 2 teams, Runnemede

Hillsborough High School

Clearview High School, 2 teams, Mullica Hill