MORE NJ STUDENTS TO BENEFIT FROM RIGOROUS AGRICULTURAL SCIENCE PROGRAM NEXT SCHOOL YEAR
Thirteen Schools to Offer Curriculum in Agricultural Science Education Classes

For Immediate Release: May 26, 2011
Contact: Lynne Richmond
(609) 633-2954

(TRENTON) –New Jersey Secretary of Agriculture Douglas H. Fisher said that when the 2011-2012 school year begins in September, 13 schools in the state will offer the rigorous Curriculum in Agricultural Science Education (CASE) to help prepare students for college and careers in agriculture.

"With the many advances in technology and science, agriculture is emerging as a high-tech industry and trained, educated people are needed to fill agriculture industry jobs," said Secretary Fisher.  "CASE is a hands-on program that produces career and college-ready students who can meet the needs of a global economy."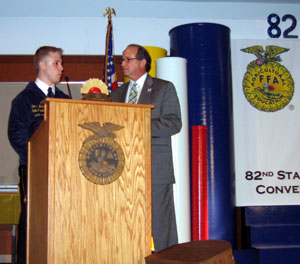 Fisher addressed more than 400 students, advisors, guests and staff Tuesday at the opening session of the 82nd New Jersey State FFA Convention at Rutgers University in New Brunswick.


State FFA President Eric Nelson thanks Secretary Fisher for his support of FFA.


Ten agricultural education programs received $7,800 grants  to support the professional development of the teachers, implement new agriculture courses at the school and upgrade the learning environment or equipment to teach the courses.  Receiving the grants were:  Allentown High School; Cumberland Regional High School; Essex County Vocational Technical School; Hackettstown High School; Northern Burlington County Regional High School; Ocean County Vocational Technical School; Somerset Vocational Technical School; South Hunterdon Regional High School; Sussex County Vocational Technical School; and, Union County Vocational Technical High School. 

There will be four new CASE schools next school year.  CASE is an instructional system that provides intense teacher professional development and curriculum that is changing the culture of agriculture programs.  The CASE Program includes lessons that build on each previous lesson coupled with inquiry-based lesson delivery style, leading students to a higher understanding of big-picture science, technology, engineering and math concepts.

Secretary Fisher spoke of some of the successes in agricultural education from the past year:

Three State FFA officers learned about the importance of global agriculture when they attended the International Leadership Seminar for State Officers in Argentina in January.

The Ocean County Chapter represented FFA at the Department's annual Christmas tree-cutting event in December, which was attended by Lt. Governor Kim Guadagno.

The Department celebrated National Teach Ag Day at Essex County Vocational Technical School in West Caldwell in March, an event attended by federal, state and local agricultural education officials.

The FFA Horticultural Expo was held in March and there were more than 750 entries in the competition at the MarketFair Mall in Princeton.

FFA week in February was bigger and better than ever with chapters celebrating in all kinds of unique ways throughout the state.  And during that week, 180 FFA members, advisors, and agricultural and education leaders attended FFA Advocacy and Legislative Leadership Day. 

Secretary Fisher also recognized the Department's nationally recognized agricultural education staff.

At the National FFA Convention in Indianapolis, IN, last October, Nancy Trivette, Program Leader, received the highest honor bestowed by National FFA, the National FFA VIP Award.  Trivette also is Past President of the National Council for Agricultural Education and the National Association of Supervisors of Agricultural Education.

Erin Noble, State FFA Specialist (Executive Secretary), was appointed to the National FFA Board of Directors, filling a U.S. Department of Education position representing FFA Executive Secretaries all over the country.  And, Susan Butch, Executive Assistant, was selected to serve on the National FFA Alumni Council.

FFA, a component of an agriculture, food and natural resources program of instruction, prepares young people for leadership and careers in the business, science and technology of agriculture.

There are 1,810 members in 34 FFA chapters in New Jersey and 523,309 members in 7,487 chapters in all 50 states, Puerto Rico and the Virgin Islands.

The State FFA Convention took place May 24-26.  Students participated in career and leadership development events and motivational workshops and were recognized for their achievements throughout the year. 

More than $45,000 in college scholarships were awarded to FFA members, with an additional $7,000 in cash awards presented to FFA chapters and individuals.  The scholarships and awards were sponsored by the State and National FFA Foundations, the State FFA Association and other agricultural organizations.