NEW JERSEY FLORICULTURE INDUSTRY BIG BUSINESS
Secretary of Agriculture Says Plant Flowers and Foliage Now

For Immediate Release: May 27, 2011
Contact: Lynne Richmond
(609) 633-2954

(TRENTON) – New Jersey Secretary of Agriculture Douglas H. Fisher today announced that the value of New Jersey's floriculture crops was $178 million last year, up 7 percent from 2009.

Fisher visited Timothy's Center for Gardening in Robbinsville to announce the results of the survey conducted by the United States Department of Agriculture's National Agricultural Statistics Service.  He said Memorial Day weekend is a great time to head to a nursery or garden center to buy plants for the season.

"New Jersey is a major producer of bedding plants used to beautify people's homes and businesses throughout the state," said Secretary Fisher.  "By purchasing the plants grown here in the Garden State, consumers are ensured the plants are acclimated to our climate to grow and thrive.  The purchase also helps support our state's farmers."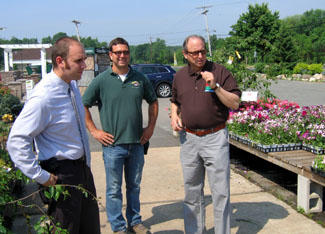 Dominick Mondi, Tim Serinese and Secretary Fisher look at the wide selection of annual flowering plants at Timothy's Center for Gardening

Floriculture crops include bedding plants, such as flowering annuals, and also cut flowers, chrysanthemums, hostas, lilies, poinsettias and foliage plants.

The survey showed that New Jersey ranked eighth in the nation in expanded wholesale value of floriculture crops, just behind neighboring New York, but outpacing Pennsylvania and Maryland. 

Bedding and garden plants sales were $110.5 million, an increase of 3 percent from a year earlier.  New Jersey also had $12.4 million in cut flower sales, up from $11.4 million in 2009.

Dominick Mondi, Executive Director of the New Jersey Nursery and Landscape Association said the survey shows that floriculture is a viable industry in New Jersey and, along with other horticultural products and services, is a great contributor to the local economy.

"Now that you know, use that knowledge to wisely purchase locally grown plants from independent growers and garden centers; your garden and the environment will thank you," said Mondi.  "All the same benefits you receive from buying your produce locally, like higher quality, less fuel spent on transport, and supporting the local economy, you get with purchasing flowers locally, as well."

Timothy's Center for Gardening grows annuals, perennials and fall mums on one and a half acres.  Timothy Serinese is the third generation in the business, which was started by his grandfather, father and uncle on the same location in 1965.

"Our specialty is our large selection and quality – we have one of the largest retail perennial departments in the area," said Serinese, who has an Ornamental Horticulture degree from Delaware Valley College.  "The best part of this business is knowing your customers enjoy coming to your store and that you are helping to make the yard or garden the way they want it."

To find a nearby nursery or garden center, visit the Jersey Grown website at: www.jerseygrown.nj.gov/retailers_info.html.