MANCHESTER ELEMENTARY SCHOOLS EARN HIGH MARKS FOR NUTRITION, PHYSICAL ACTIVITY INITIATIVES
Federal, State, Local Officials Present Schools with Award

(MANCHESTER) – United States Department of Agriculture and New Jersey Department of Agriculture Food and Nutrition officials today presented Manchester Township's three elementary schools with the HealthierUS School Challenge Award.

Manchester Township, Ridgeway and Whiting Elementary Schools are the first schools in New Jersey to attain the Silver Level of the award, which earned the district $1,000 per school. 

"We congratulate the Manchester Township School District for reaching higher to provide students with more healthy options in their cafeterias, as well as opportunities to increase their physical activity," said Rose Tricario, New Jersey Department of Agriculture Division of Food and Nutrition Director.  "New Jersey's stringent nutrition standards put all schools in the state on track to earn the HealthierUS School Challenge award.  We encourage Manchester Township to continue to work toward reaching higher levels of the award and hope other schools in the state will join the program."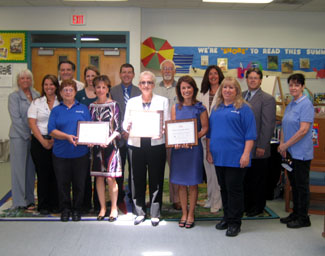 Manchester Township elementary schools principals show off their HealthierUS School Challenge Awards.


The HealthierUS School Challenge (HUSSC) is a voluntary national certification initiative for schools participating in the National School Lunch Program.  Sponsored by the USDA Food and Nutrition Service (FNS), the initiative encourages all schools to take a leadership role in helping students to make healthier eating and physical activity choices that will last a lifetime. 

" Manchester Township Schools' HealthierUS School Challenge achievement demonstrates the deep commitment to create and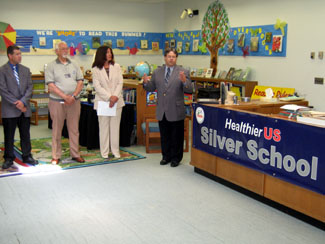 maintain a healthy school environment by promoting good nutrition and physical activity," said James Harmon, Director of Special Nutrition Programs, USDA Food and Nutrition Service.  "This event helps highlight the importance of children and communities in New Jersey getting involved."


Jim Harmon speaks during the ceremony, as Rose Tricario, Mayor Mike Fressola and Jeff Hanaway look on.

Manchester Township Schools Food Service Director Jeff Hanaway of Sodexo, the district's food service company, said they have seen an increase in the number of meals served since they began the Challenge and now are shooting for the gold level of the award.

"We went through extensive menu changes implementing whole grains and new vegetables," said Hanaway.  "In the future, I would like to expand our Produce of the Month offerings and use some of the award money to expand the school gardens.  I also would like to continue to expand our menus as more whole grain items are brought to market."

Diane Pedroza, Ridgeway Elementary School Principal, said her school offers special physical activities throughout the year, such as the Turkey Trot, Walkathon, Dolphin Day, Olympic Day and Jump Rope for Heart.  The students also grow fruits, such as raspberries and strawberries, in a school garden.

"We participated in this program because we recognize the importance of nutrition and healthy choices for our students since well-nourished children find it easier to focus and learn," said Pedroza.  "Working towards this goal emphasized the need to improve children's lifelong eating and physical activity habits."

In addition to Manchester Township, 13 other New Jersey schools have attained the HUSSC award:  all of Old Bridge Township's elementary schools and Osage Elementary School in Voorhees earned the bronze level.

Ultimately, FNS would like to see all schools receive a HUSSC award at any one of the four levels of superior performance:  Bronze, Silver, Gold, or Gold Award of Distinction.  Schools awarded receive a monetary incentive (Bronze $500, Silver $1,000, Gold $1,500, and Gold Award of Distinction $2,000), an award plaque signed by a USDA official, a banner to display in their school, and their name listed on the Team Nutrition Web site.

To qualify for an award, a school must submit a formal application and meet basic criteria set forth by the FNS.  The HUSSC criteria reflect the recommendations of the 2005 Dietary Guidelines for Americans, and the Institute of Medicine (IOM) published recommendations (April 2007) for foods that should be served in schools, outside of the organized school lunch meals.  HealthierUS Schools must also have a local school wellness policy, as mandated by Congress.  Schools receiving a HUSSC award commit to meeting the criteria throughout their four year certification period.

Schools that champion the HUSSC work hard to make changes to their school nutrition environment in order to (1) improve the quality of the foods served, (2) provide students with nutrition education, and (3) provide students with physical education and opportunities for physical activity. 

For more information on the HealthierUS School Challenge, visit www.fns.usda.gov/tn/healthierus/index.html.

For more information on New Jersey's school nutrition policy, visit: www.nj.gov/agriculture/divisions/fn/childadult/school_model.html.