LT. GOVERNOR, AGRICULTURE SECRETARY UNVEIL NEW STATE ARCHIVES ONLINE AG PHOTO COLLECTION
More than 2,000 Newly Preserved Images Detail History of Farming in New Jersey

For Immediate Release: June 15, 2011
Contact: Lynne Richmond
(609) 633-2954

(HOPEWELL) – Lieutenant Governor Kim Guadagno and Secretary of Agriculture Douglas H. Fisher today unveiled an online data- and image bank describing more than 7,000 vintage photographs produced by the Department of Agriculture to document farming in New Jersey from the late 19th century through the 1970s. Of these, more than 2,000 photos have been scanned and are now publicly viewable in the image bank at www.njarchives.org/links/agphotos.html.

"This major historical resource created by the New Jersey State Archives is a monumental achievement," said Lt. Governor Guadagno, who as Secretary of State, oversees the Division of Archives and Records Management, which operates the State Archives. "It illustrates not only the history of farming, but also the dedication of archivists to making that history accessible."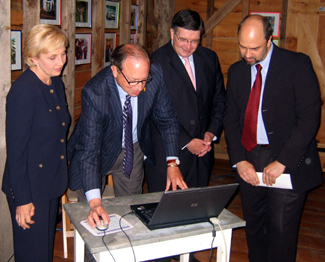 Lt. Governor Kim Guadagno, Secretary Fisher, Mercer County Executive Brian Hughes and Joseph Klett, Deputy State Archivist, launch the Dept. of Agriculture online photo database

In 1984, the State Archives acquired a vast collection of historical photographs from the Department of Agriculture, originating as a public information photo file soon after the Department was created in 1916.  The images were used for publication in bulletins and reports, press releases and simply to document agriculture and related industries in New Jersey. Seven decades later, the collection had grown to 90 boxes. 

"Our photographs tell the story of New Jersey agriculture and demonstrate the Department's mission to support and promote agribusiness and educate the public to agriculture's vital role in the state," said Secretary Fisher. "We're called the Garden State, and these images show us why."

Several years after the acquisition, the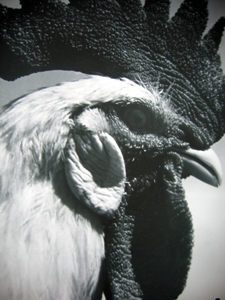 Archives began painstakingly organizing and preserving the photos. The project began with the efforts of a volunteer, George Coyne, who devoted many hours rehousing the prints and negatives in archival sleeves and containers. The Archives staff later created a database to index the pictures by subject and key words, and began scanning selected images representing each subject area. About 40 percent of the collection has been scanned so far, and the images are now linked to database entries—all online.  The end result of the 20-year project is a rich online resource now open to the general public, historians and museums worldwide. 

Appropriately, the unveiling ceremony was held at Howell Living History Farm in Hopewell Township, an educational facility operated by the Mercer County Park Commission that preserves and interprets farming life and processes from the era of 1890-1910.

"Howell Farm uses these images now to do its work as a living history site," said Brian Hughes, Mercer County Executive. "They show us how farmers moved and dressed as they did their work… the tools and machinery they implemented… how they cooperated to get their job done. It's a remarkable source of information, and also just beautiful vignettes of bygone days."

Secretary Fisher said the Department plans to contribute a current collection of agriculture photos to the archives project, to continue to document the industry's growth and advances.

The State Archives, located at 225 West State Street in downtown Trenton, holds nearly 40,000 cubic feet of permanent, historical records dating back to the British colonization of New Jersey in 1664. It also offers nearly 30,000 reels of state, county, municipal and federal records on microfilm, making it New Jersey's official public research center for genealogy, local history, and the study of political, economic and social issues.

The Archives continually appraises the historical value of records of New Jersey government agencies to determine what should be retained for future generations. Less than one percent of all records produced by government are kept permanently.

The new agriculture image bank, and many other databases, can be accessed online at the State Archives' website:  www.state.nj.us/state/darm/links/databases.html.