Home
>
News
>
Press Releases
>
2011
>
FIRST LADY MARY PAT CHRISTIE ANNOUNCES WINNER OF NEW JERSEY'S TOP SEAFOOD CHEF TO COMPETE IN LOUISIANA
FIRST LADY MARY PAT CHRISTIE ANNOUNCES WINNER OF NEW JERSEY'S TOP SEAFOOD CHEF TO COMPETE IN LOUISIANA
Scott Anderson of elements in Princeton will Represent New Jersey in National Crown Competition

For Immediate Release: June 30, 2011                                                
Contact: Michael Drewniak
Kevin Roberts
609-777-2600

Trenton, NJ – First Lady Mary Pat Christie declared Scott Anderson of elements in Princeton the winner of the 2011 Jersey Seafood Challenge for his signature dish that featured fluke with garlic scapes, panko, arrowhead cabbage and herbaceous vinaigrette. As the champion, Anderson will represent New Jersey at the Great American Seafood Cook-off in New Orleans in August. Today's competition was held in the gardens at Drumthwacket.

"New Jersey has a vibrant and thriving seafood industry," said Mrs. Christie. "These talented chefs prepared an outstanding lineup of dishes that demonstrated  the superior quality of our bountiful Jersey Seafood  and Jersey Fresh produce. Thanks to all sixteen competitors and the restaurants they represent for participating today and congratulations to Scott Anderson. I am confident he will showcase our Jersey pride representing the Garden State in New Orleans later this summer."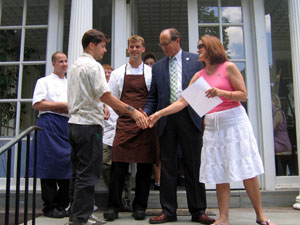 Mrs. Christie, along with Secretary Fisher, congratulates Jersey Seafood Challenge winner Scott Anderson

A native of the Garden State, Scott Anderson spent part of his youth in Japan where the exposure to foreign tastes and flavors left a lasting impact. He began his career as a line cook at Baystreet Grill in Edison and later joined the Terra Momo restaurant group. There, he spent six years at Teresa Caffe before becoming head chef at Mediterra in Princeton, and later at Nova Terra in New Brunswick. He has also worked at The Ryland Inn with Chef Craig Shelton. In October 2008, he opened elements. Relying on the seasons, the inspiration and the bounty of the farm, Chef Anderson continually improvises when creating a menu.

"At elements, we think of our dishes as canvases and paint what feels right, while staying grounded in the essence of the ingredients," said Chef Anderson. "So, I am looking forward to the competition in New Orleans and being inspired by the diverse, local ingredients to create a new experience."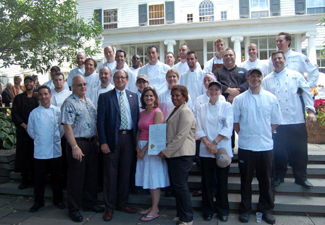 Other chefs who participated in the cook-off sponsored by the New Jersey Department of Agriculture included: Christopher Albrecht, Eno Terra and Enoteca, Kingston; Mitchell Altholz, Highlawn Pavilion, West Orange; Michael John Chu, Mehtani Restaurant Group, Morristown; Chris Curado, Chakra Restaurant, Paramus; Kevin Guinta,  Plate American Café,  Trump Taj Mahal,  Atlantic City; Demetrios Haronis, Fin (Tropicana Hotel Casino), Atlantic City; Michael Inferrera, Mia (Caesar's Hotel and Casino), Atlantic City; J. Geoffrey Johnson, Copper Fish on Broadway, West Cape May; Sofia Karakasidou, Kuzina by Sofia, Cherry Hill; Jack Koumbis, Assembly Steak House and Seafood Grill, Englewood Cliffs; James Laird, Restaurant Serenade, Chatham; Will Mooney, The Brothers Moon Restaurant, Hopewell; Elizabeth Penn, Student Chef, Academy of Culinary Arts, Atlantic-Cape Community College, Mays Landing; David Suscavage, The Foundation Room (Showboat Hotel and Casino), Atlantic City and Kevin Taylor, Los Amigos Restaurant, West Berlin.
Second-runner up in the competition was Christopher Albrecht of Eno Terra  in Kingston; third runner up was Kevin Guinta of Plate American Cafe at Trump Taj Mahal in Atlantic City and fourth runner up was Kevin Taylor of Los Amigos Restaurant in West Berlin .

The Great American Seafood Cook-off is limited to 20 chefs with the champion being named King or Queen of American Seafood. The cook-off is televised by the Food Network and is part of the Louisiana Foodservice Expo.

"Consumers are demanding local and we are proud to partner with our state's chefs and restaurants to serve dishes featuring top quality seafood, vegetables, fruits and herbs caught or grown by our New Jersey fishermen or farmers," said  New Jersey Secretary of Agriculture Douglas H. Fisher. "Eating Jersey Seafood provides many health benefits and there is a great variety, with 100 different species of fish and shellfish caught or harvested by local fishermen and fish farmers.  We hope all residents will be inspired to cook Jersey Seafood along with Jersey Fresh produce or head to a local restaurant and ask for these local varieties from the Garden State."

Judging the competition were First Lady Mary Pat Christie; Secretary of Agriculture Douglas H. Fisher; Jennifer Monaco, Club Managers Association of New Jersey; Bill Tillinghast, Vice President, American Culinary Foundation-Northeast Region; Jim Weaver, President, New Jersey Slow Food Movement; Larry Frazer, American Culinary Foundation-Princeton; David Burke, Fromagerie, Rumson and board member of the New Jersey Restaurant Association; Peter Genovese, Star-Ledger "Munch-Mobile" and Ed Coss, Milford Oyster House.

Also on hand was Nicholas Davidson of Gusto Grill in East Brunswick, who created The Garden State of Mine, the winning cocktail of the 2011 New Jersey Restaurant Association's Mixologist of the year competition.

Sponsors of the Jersey Seafood Challenge include Anheuser Busch, New Jersey Restaurant Association, Garden State Seafood Association, Atlantic Cape Fisheries, Inc., Barney's Dock, Cape May Foods, Dock Street Seafood, Fisherman's Dock Co-Op, Inc., Harbor House Seafood, Lund's Fisheries, Inc., The Lobster House and Viking Village.

New Jersey's seafood industry positively impacts the Garden State economy in many ways. For instance, in 2008, combined sales from commercial harvesters, seafood processors and dealers, seafood wholesalers and distributors and the retail sector added up to more than $2 billion. The industry also generates more than 40,000 jobs, with 2,000 commercial fishermen, and 1,380 employed by seafood processors/dealers; 4,176 by seafood wholesalers/distributors; and 32,426 by the retail sector. 

Home to six major fishing ports, New Jersey fishermen reeled in 161.6 million pounds of seafood in 2009, valued at more than $149 million at all port combined. Four ports rank among the top 15 ports on the Eastern Seaboard – Cape May (3rd), Atlantic City (9th), Barnegat Light (10th) and Point Pleasant (11th).  And, Cape May is the fifth largest port in the nation, hauling in 63.9 million pounds of seafood valued at $73.4 million.

New Jersey fishermen land more than 100 varieties of finfish and shellfish. The National Oceanic and Atmospheric Administration (NOAA) ranked the state first in the nation for pounds of shellfish landed in 2009, with $28.3 million pounds valued at $8.1 million.  The state also ranked first in the landings of clams or bivalves, with 45.3 million pounds worth $27.5 million. In 2009, New Jersey ranked second in the nation in scallop landings with 14 million pounds valued at $90.1 million.

For more information about New Jersey seafood, visit the Jersey Seafood website at www.jerseyseafood.nj.gov.