NJ DEPARTMENT OF AGRICULTURE, BJ'S WHOLESALE CLUB PARTNERING TO PROMOTE JERSEY FRESH
For Immediate Release: July 19, 2011
Contact: Lynne Richmond 
(609) 633-2954

(TRENTON) – New Jersey Secretary of Agriculture Douglas H. Fisher today praised BJ's Wholesale Club for making a commitment to sell Jersey Fresh produce at the company's 20 locations in the state through its Farm to Club program.

"We congratulate BJ's for recognizing that Jersey Fresh, grown by our state's farmers, is in demand by consumers," said Secretary Fisher, during a visit to the Hamilton Township BJ's Club.  "Everyone benefits when purchasing healthy Jersey Fresh produce – the farmers who grow it, the state's agriculture industry, the store that sells it and the customers who are getting the best-tasting, highest quality produce available."

BJ's kicked off its Farm to Club program this summer offering produce from Maugeri Farms in Woolwich Township, Porch Farms in Pedricktown, Cassaday Farms in Monroeville and the Landisville Co-op in Landisville.  Photos of the farmers are displayed in the stores and also appear on the produce packaging.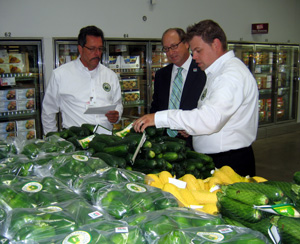 Dominic Viglione, BJ's Produce Buyer, Secretary Fisher and Doug Johnson of CH Robinson look at the Jersey Fresh cucumbers packaged for sale at the Hamilton Township BJ's Club

"As a buyer at BJ's, I strive to provide quality fresh produce that our Members can be proud to feed to their families and friends, and I'm thrilled that BJ's Members in New Jersey will be able to get the best that this state has to offer," said Rob Johnson, BJ's produce buyer.  "As someone who has followed produce trends for more than 30 years, I recognize there is a strong desire to buy and serve local produce for a variety of reasons, but what I am most proud about is the fact that it's also very good for the local community and the people who are growing our food."       

Since launching the Farm to Club program, BJ's has sold 50 percent more zucchini, yellow squash, green peppers, corn and cucumbers than the same time last year.  BJ's Farm to Club produce sales are up 70 percent and overall produce sales are up 12 percent.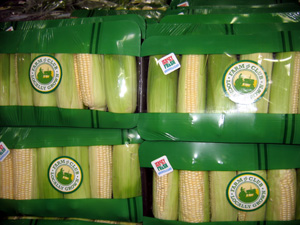 Westborough, Massachusetts-based BJ's Wholesale Club has 190 locations in 15 eastern states, first opening its doors in 1984.  BJ's provides members with name-brand merchandise, including produce and other groceries. 

For more information about BJ's, visit, www.bjs.com/about/community/ or visit them at www.Facebook.com/bjswholesaleclub.

The company made the commitment to sell Jersey Fresh after a pilot Jersey Fresh farmers market at its Manahawkin store last summer was so well-received by customers. 

Through the Department of Agriculture's efforts, Jersey Fresh can be found in local restaurants, college and hospital food service and school cafeterias throughout the state.

"We urge all food outlets to make the commitment to Jersey Fresh – it's good for their bottom line," said Fisher. "Consumers continually are asking for it at their local stores and restaurants because eating Jersey Fresh fruits, vegetables and other agricultural products can go a long way to improving overall health.  Eating locally also is a good choice for protecting our environment by reducing the miles a meal travels between farm and fork, lessening fuel consumption.  In addition, choosing locally grown products helps keep New Jersey farmers on their land, preserving the Garden State's quality of life."