Home
>
News
>
Press Releases
>
2011
>
CHRISTIE ADMINISTRATION PRESENTS BERGEN, HUDSON, MORRIS COUNTIES WITH ANIMAL EMERGENCY TRAILERS
CHRISTIE ADMINISTRATION PRESENTS BERGEN, HUDSON, MORRIS COUNTIES WITH ANIMAL EMERGENCY TRAILERS
Trailers to Aid Pets and Livestock in the Event of a Disaster

For Immediate Release: August 2, 2011
Contact: Lynne Richmond 
(609) 633-2954

(TRENTON) – Targeting highly dense, high-risk areas of the state, animal evacuation trailers were awarded to Bergen, Hudson and Morris Counties by the New Jersey Department of Agriculture during a ceremony today in West Trenton. 

The three 20-foot trailers are outfitted with cages and can be used to provide temporary shelter or transportation for pets and livestock in emergencies.  The trailers have heating and cooling units, electrical and water hook-ups, generators and external light sources, giving users the ability to set up a temporary animal shelter at any location.

"New Jersey, located between two major cities, needs to be prepared in case disaster strikes, because any incident that poses a threat to large numbers of people is likely to put animals at risk, as well ," said New Jersey Secretary of Agriculture Douglas H. Fisher, who awarded the trailers to the counties' Offices of Emergency Management and County Animal Response Teams.  "The animal evacuation trailers can fill a vital role in an emergency and help provide care for animals that might not be able to go along with their owners."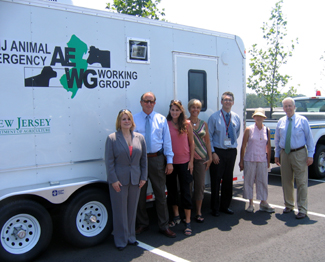 Detective Gidget Petry, Bergen County OEM; Secretary Fisher; Niki Dawson and Joan Maciewicz of Hudson County CART; Dr. Manoel Tamassia, NJDA State Veterinarian; Dr. Shari Silverman, NJDA; and Jack Burns, Hudson County OEM.

The trailers were paid for with an Urban Areas Security Initiative Grant through the New Jersey Office of Homeland Security and Preparedness.  The grant program's goal is to "support the unique multi-discipline planning, operations, equipment, training and exercise needs of high threat, high density urban areas, and to assist them in building and sustaining capabilities to prevent, protect against, respond to, and recover from threats or acts of terrorism."

"Ensuring that individuals, families, and communities have plans in place so they are ready for any type of emergency event, including plans that consider family pets, is a critical part of our mission," said Charles B. McKenna, Director of the New Jersey Office of Homeland Security and Preparedness.  "Pets are important members of the family unit and these evacuation trailers will enable first responders to help safely evacuate family pets post-disaster."

The trailers will be used by the counties' Animal Response Teams (CART), first responders who are trained on animal issues in disasters.  CART's are part of the State Animal Response Team, organized by the Animal Emergency Working Group of the Department of Agriculture, and activated under the State Office of Emergency Management.  As part of the grant, the counties also received funds for public education on animal emergency preparedness.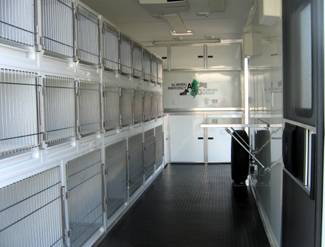 Inside the animal evacuation trailer, looking from the back door toward the front.


Bergen County has a roster of more than 3,000 volunteers ready to deploy to help animals, if needed.   The trailer will be housed in Paramus, a central location in the county.

"Catastrophic events like hurricane Katrina in New Orleans and what occurred in Mississippi last year, where so many pets were displaced and in need of assistance, showed us the necessity for emergency planning, volunteers, equipment and the supplies to respond to animals," Bergen County Executive Kathleen A. Donovan said.  "The Bergen County Police Department is pleased that they have been awarded the Animal Emergency Trailer, which in such a disaster can house pets, giving their owners the peace of mind to seek necessary shelter for themselves without worrying about their pets."

Previous Homeland Security grants received by the Department of Agriculture have gone to purchase six other animal emergency trailers, either for emergency animal shelters or veterinary care.  Those trailers were given to Burlington, Camden, Hudson, Hunterdon, Ocean and Sussex Counties in 2006 and 2007.

The trailer project was a cooperative effort between the Department of Agriculture, New Jersey State Police Office of Emergency Management and the New Jersey Office of Homeland Security and Preparedness.

Domestic animals are an integral part of daily life in America.  Approximately 60 percent of U.S. households have dogs, cats and other species as companion animals.  In addition to their intrinsic value, pets or service animals improve the quality of life for people and both police dogs and rescue dogs routinely save human lives.

To learn more about the county and state Animal Response Teams, or to become involved, visit www.nj.gov/agriculture/divisions/ah/prog/cart.html.

For information for animal owners on how to plan ahead and be prepared, visit www.nj.gov/agriculture/divisions/ah/prog/emergency_preparedness.html.