AGRICULTURE OFFICIALS PROMOTE OCTOBER AS FALL GARDENING MONTH
Fall is Best Time to Plant Jersey Grown Products To Ensure Beautiful Spring Garden

For Immediate Release: September 21, 2011
Contact: Lynne Richmond
(609) 633-2954

(BERKELEY HEIGHTS) – New Jersey Secretary of Agriculture Douglas H. Fisher and New Jersey Nursery and Landscape Association (NJNLA) President Jan-Marie Traynor today kicked off the first official Fall Gardening Month in New Jersey with a ceremony at Hall's Garden Center in Berkeley Heights.

Fisher presented Traynor with a proclamation from Governor Chris Christie which declares October Fall Gardening Month because "fall is the best time of year for planting new trees and shrubs, as well as establishing new turf grass and planting bulbs for spring impact."

"We urge everyone to visit their local garden center or nursery or call their landscaper to take advantage of the great planting weather October has to offer," said Secretary Fisher.  "Be sure to look for the Jersey Grown tag to know you're buying something accustomed to our state's climate and is insect and disease-free."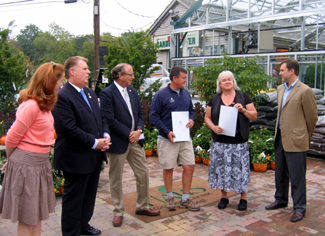 Assemblywoman Nancy Munoz, Berkeley Heights Mayor Joseph Bruno, Secretary Fisher, Bob LaHoff, Jan Traynor and Senator Tom Kean gathered at Hall's Garden Center to kick-off October as the first Fall Gardening Month in NJ

Traynor said while October is ideal for getting out in the garden, planting can be successfully accomplished now through November and often even into December.  She said cooler air temperatures coupled with soil temperatures that are still warm make for ideal conditions for new plantings, allowing the roots to acclimate to their new location without the stress that summer heat can cause.

"The members of NJNLA are experienced landscape and nursery professionals who are best able to help homeowners achieve the kind of long term satisfaction with their home landscape that all deserve," said Traynor.  "NJNLA members, whether at a garden center or as a landscape professional can help the homeowner select the best plant for any area and ensure that it is properly planted and cared for so that the landscape can add value to their home for years to come. Combine this with the skill of our NJNLA Nursery members who produce the best plants in the country and you have a winning combination, sure to produce great results in every season."

Horticulture is a large sector of New Jersey's agricultural industry and contributes greatly to the state's economy, bringing in $451.1 million in revenue in 2010, a 17.2 percent increase over the prior year.  New Jersey ranks 8th in the nation in total horticultural production, 6th in nursery stock, 5th in potted herbaceous plants and 4th in cut flowers.

New Jersey's green industry, from production and distribution to retail and installation, is 7th in the nation in total employment, with its 47,000 businesses providing 68,000 full and part-time jobs in the state.

An NJNLA member, Hall's Garden Center is a second-generation, family-owned business with 6,100 square feet of state-of-the-art greenhouses

"We are known for consistent, unique product – hard to find, unusual plants," said Robert LaHoff, one of Hall's owners.  "Quality and customer service are most important to Hall's."

Hall's, started in 1978 by LaHoff's father-in-law, is a full landscape design and build company with a full service florist and gift shop on 3 acres in what LaHoff calls a "killer location."

The NJNLA is New Jersey's leading association for the advancement of green industry businesses.  Members consist of Nursery Growers, Garden Centers, and Landscape Professionals operating with in the Garden State.  NJNLA provides regular communication, education, and networking opportunities to its members and the landscape community.  To learn more about the NJNLA, visit www.njnla.org. 

To find a local garden center or nursery, visit www.jerseygrown.nj.gov. 

For more information about the Jersey Grown program, visit www.jerseygrown.nj.gov/jerseygrown.html.