WIDE VARIETY OF ON-FARM ACTIVITIES AVAILABLE THIS FALL IN NJ
Corn Mazes, Hay Rides, Pick-Your-Own Up and Running
For Immediate Release: September 23, 2011
Contact: Lynne Richmond
(609) 633-2954

(MULLICA HILL) – New Jersey Secretary of Agriculture Douglas H. Fisher today savored some freshly pressed apple cider made with Jersey Fresh apples as he heralded in this year's fall agritourism season at a cider mill in Gloucester County. 

Secretary Fisher visited with Fred and Cheryl-Ann Sorbello who make Fralinger's Apple Cider and their own local brand they sell at their Hill Creek Farms in South Harrison Township.

"Despite many weather challenges this season, New Jersey farmers are welcoming the public on to their farms for everyone's favorite fall activities, such as corn mazes, hay rides, apple picking, winery tours and festivals," said Secretary Fisher.  "These farm visits create lasting memories for families, teach children about where their food comes from and the importance of sustainable local agriculture, and help generate revenue that keeps farmland in production."



Agritourism is important to the state's economy, generating $60 million annually and generates additional revenues in a wide range of other allied businesses, such as restaurants, construction companies and insurance providers.  More than one-fifth of New Jersey farms offer some form of agritourism, with 43 percent of New Jersey's total farmland associated with farm operations engaging in agritourism.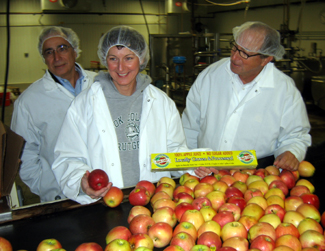 Fred and Cheryl-Ann Sorbello show Secretary Fisher how they make their apple cider, using local apples.

Freshly-pressed apple cider is often associated with fall farm visits, and Fred Sorbello, a third-generation farmer who left the industry to pursue warehousing and distribution 11 years ago, said making cider started out as a hobby that grew into a business.  He and his wife purchased Fralinger's about a month ago and hope to produce 250,000 gallons of cider this year.

At Hill Creek Farms, they planted 60 acres of apple trees to supply them with some of the apples, but Sorbello said the rest will be purchased from other farmers in the area, giving their neighbors a market for their fruit.  He hopes to plant another 100,000 trees in the future.

At the farm, visitors can take a hay ride and pick their own apples as well as shop in their farm market.  A Family Fun Day is planned for October 9 at the farm on Route 45.

"Seeing families enjoy themselves at the farm through wagon rides, taking pictures, buying fresh agricultural products and enjoying the outdoors is as rewarding as anything else I do," said Sorbello, who comes from a family of peach farmers.  "Having the opportunity to share 'farm experiences' and telling them about our past is fun for me and hopefully for them.  There's something just right about farming, especially apples in the U.S.A. – it's American."

New Jersey agritourism offers a variety of year-round experiences from pick-your-own produce, farm stands, wine tastings and horseback riding to hayrides, corn mazes and cut-your-own Christmas trees. 

To find activities planned this fall on New Jersey farms, visit www.jerseyfresh.nj.gov/cornmazes.htm, www.visitnjfarms.org, and www.visitnj.org websites.