MADE WITH JERSEY FRESH ITEMS FOR USE IN SCHOOL LUNCH PROGRAM UNVEILED
Farm to School Recipes Developed Through Federal Grant

For Immediate Release: September 30, 2011
Contact: Lynne Richmond
(609) 633-2954

(TRENTON) – On the final day of the first-ever Jersey Fresh Farm to School Week, New Jersey Secretary of Agriculture Douglas H. Fisher and Rutgers Food Innovation Center officials today unveiled several recipes developed through a $51,000 grant to create new food items derived from New Jersey agricultural products for use in the National School Lunch Program.

Students, as well as officials visiting Gloria M. Sabater Elementary School in Vineland sampled whole grain Jersey blueberry muffins, Jersey eggplant rollatini with Jersey Tomato primavera sauce and Jersey blueberry and cranberry yogurt parfaits.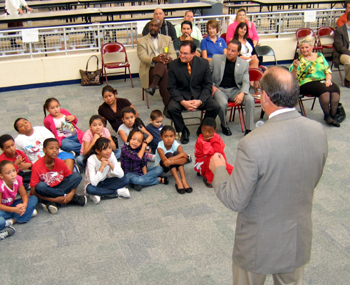 Secretary Fisher talks to Sabater School students about good nutrition as Vineland Mayor Robert Romano and Assemblyman Nelson Albano look on

"More and more schools are participating in our Farm to School program, serving Jersey Fresh produce as part of their school meals program during the growing season," said Secretary Fisher.  "But, these newly developed recipes will enable schools to serve locally grown produce all year long in the form of Made with Jersey Fresh or Jersey Fresh Milk products."

The Department of Agriculture received the U.S. Department of Agriculture Federal-State Marketing Improvement Program Grant late last year and has worked with the Food Innovation Center to develop single serving, innovative items that meet the nutritional, cost and shelf life requirements necessary to be utilized in school meals. 

The Rutgers Food Innovation Center, a program of the New Jersey Agricultural Experiment Center is a unique food business incubator and processing facility.  The center has been commissioned through this grant to research, develop and determine commercialization opportunities in order to bring the concepts to school cafeterias throughout New Jersey.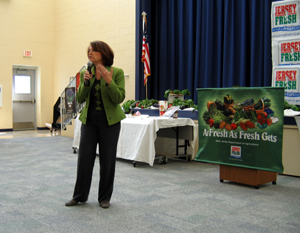 Diane Holtaway explains the Farm to School grant project

"We have met with many food service directors across the state to understand their preferences for locally produced products that will work well within their kitchen parameters, meet healthy nutritional guidelines, and deliver on pricing," said Diane Holtaway, associate director of client services at the Food Innovation Center and project director. "A key next step is to run sensory taste tests with students where hopefully we gain a thumbs-up.  We will definitely use their comments to finalize the recipes.  Our goal is to make the end products a triple win – win for the farmers, win for the students and win for the school food service directors."


The purpose of the grant program is to develop innovative ways to benefit farmers.  A significant market opportunity exists if the seasonal availability of New Jersey Agricultural products to the school meals program could be expanded.  Annually, more than 800,000 pounds of locally grown fruits and vegetables are distributed to schools under a cooperative agreement with the U.S. Department of Defense.  Due to the September through June school year, it would be difficult to expand upon those quantities.

Eggplant Rollatini

The Department of Agriculture is actively engaged in connecting schools with farmers and local produce distributors to bring more New Jersey produce into the school meals' program.  The Department, in cooperation with the New Jersey Farm to School Network celebrated Farm to School Week September 26-30, which was takes place the last week in September each year to promote the state's agricultural industry and encourage children and their families to increase their consumption of fresh produce.  The week also seeks to educate about the health benefits of eating fruits and vegetables and show the connection between a healthy diet and success in school.

Through the Farm to School program, schools throughout New Jersey can source more than 100 types of Jersey Fresh produce grown here in the Garden State. Opportunities exist for state farmers to provide agricultural products to school food service departments throughout the growing season. The object of serving healthy meals in school cafeterias is to improve student nutrition, provide health and nutrition education opportunities that will last a lifetime, as well as support local farmers.

Additionally, the farm to school program includes school garden activities, which help teach students where food comes from by growing it themselves. Students benefit by learning the science behind farming and the nutritional values of fresh products, as well as gain a greater understanding and appreciation of the environment. Educators can use school garden programs to teach any subject - math, science, language arts, health and nutrition or social studies. Finally, farm to school programs create a sense of community for all involved with the related activities.

"Farm to School Week is our opportunity to reinforce the importance of using fresh, wholesome local produce in school meals, but also to educate students about where their food comes from and how vital it is to have farms in New Jersey," said Secretary Fisher.  "We hope more schools will be inspired to partner with farmers to purchase Jersey Fresh fruits and vegetables and start their own school gardens."

The bill creating Farm to School Week was sponsored by Senators Jim Whelan and Steven Oroho and Assemblymen John McKeon and John Burzichelli and Assemblywoman Annette Quijano and then signed by Governor Chris Christie in January.

Other events held to celebrate Jersey Fresh Farm to School Week this year included a school garden tour at Riverside Elementary School in Princeton, an apple tasting at Village Elementary School in West Windsor; a school food service tour of Tri-County Cooperative Auction Market in East Windsor; and a Jersey Fresh cooking contest at P.S. #17 in Jersey City.

For more information, visit www.nj.gov/agriculture/divisions/fn/childadult/farm_to_school.html.