CHRISTIE ADMINISTRATION STRESSES IMPORTANCE OF FARMERS MARKETS TO COMMUNITIES THEY SERVE
Markets Provide Urban Residents with Access to Jersey Fresh Produce, Assistance Programs

For Immediate Release: October 20, 2011
Contact: Lynne Richmond
(609) 633-2954

(TRENTON) – New Jersey Secretary of Agriculture Douglas H. Fisher today visited the bustling Newark Downtown District Common Greens Farmers Market to talk about the vital need for access to farm fresh produce in New Jersey's downtown areas and the availability of programs that assist qualifying residents in purchasing Jersey Fresh fruits and vegetables.

"For some New Jersey residents, farmers markets are the only source they have for nutritious local produce," said Secretary Fisher. "The Christie Administration strongly supports programs to give those residents better access to our farmers' fruits and vegetables."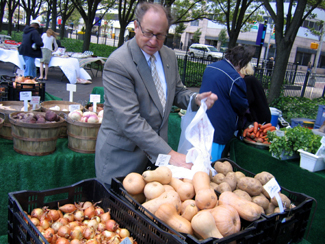 Secretary Fisher doing a bit of shopping while at the Common Greens Farmers Market

There were 148 community farmers markets operating in New Jersey this season. Many remain open through the end of October and some operate into November. These markets feature Garden State farmers who sell produce they've picked at the peak of ripeness within 24 hours of sale to ensure the best taste and highest quality. 

Many accept vouchers from the Senior Farmers' Market Nutrition Program and WIC (Woman Infant and Children) Farmers Market Nutrition Program administered by the Department of Health and Senior Services.

Secretary Fisher said the Department of Agriculture is working closely with the Department of Health and Senior Services to increase participation in these federally-funded programs.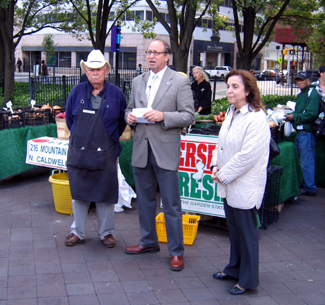 Farmer Jim Matarazzo, Secretary Fisher and Gloria Rodriguez, Asst. Commissioner, Dept. of Health and Senior Services

"Giving all New Jersey residents access to fresh fruits and vegetables helps us to make the healthy choice the easy choice," said Health and Senior Services Commissioner Mary E. O'Dowd . "I would encourage all New Jersey residents to take advantage of our farmers' markets for the remaining weeks they are open."

Recipients of the WIC and Senior Farmers Market Nutrition Program (FMNP) receive $20 in checks, valid through November 30. FMNP checks are distributed through local WIC Agencies and County Offices on Aging.

The Common Greens Farmers Market has been operating for nine years and features two farmers and eight other vendors who sell items such as baked goods, kettle corn, and frozen foods. The market is held every Thursday 11 a.m. to 3 p.m. from June to the end of October.

In addition to the FMNP, the market also gives those in the Supplemental Nutrition Assistance Program (SNAP) the option of using their electronic benefits cards (EBT) to buy produce from one of their farmers. This year, certain farmers at farmers markets in 11 counties had that capability.

"Maintaining good nutrition while living on a limited budget is something that NJ SNAP recipients wrestle with every day," said Human Services Commissioner Jennifer Velez. "Now that many farmers' markets are accepting EBT, they have a greater choice of where to purchase healthy, fresh New Jersey produce."

To view the list of markets and farmers who accept SNAP EBT cards, visit www.nj.gov/agriculture/divisions/md/pdf/farmersmkrt2011.xls.

For more information on the WIC and Senior Farmers Market Nutrition Program, go to: www.nj.gov/agriculture/divisions/md/prog/wic.html.

For complete information on locations, days and hours of community farmers markets throughout New Jersey, visit www.state.nj.us/jerseyfresh/searches/urban.htm.