CHRISTIE ADMINISTRATION PARTNERS TO OFFER NJ FOOD BANKS 'JERSEY FRESH' PRODUCE
More Than $147,000 in Federal Funding Is Directed to Five Major Food Banks in the State

For Immediate Release:
October 25, 2011
Contact:
Hollie Gilroy, DCA Press Office, (609) 292-6055                                        
Lynne Richmond, NJDA Press Office, (609) 633-2954
Nicole Brossoie, NJDHS Press Office, (609) 292-3703

TRENTON, N.J. – New Jersey Department of Community Affairs (DCA) Commissioner Lori Grifa and New Jersey Department of Agriculture Secretary Douglas H. Fisher today announced a collaborative commitment that provides the five major food banks in the state with 'Jersey Fresh' fruits and vegetables for the families and organizations they assist. The announcement was made during a visit to Mercer Street Friends Food Bank. More than $147,000 in federal funding is being directed to the effort.

"By working together, the Christie Administration is giving a healthy boost to people facing hard times," said Commissioner Grifa. "We are coming together to help address the needs of families all across New Jersey; from Cape May to Sussex Counties, from Newark to Bridgeton."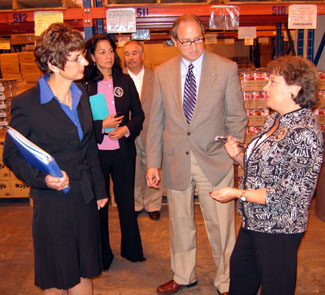 Commissioners Grifa and Velez and Secretary Fisher tour the Mercer Street Friends Food Bank with its director Phyllis Stoolmacher

The funding is made available through the DCA Division of Housing and Community Resources' administration of the Community Services Block Grant (CSBG), a federal, anti-poverty block grant which funds the operations of a state-administered network of local agencies. Five percent of the state's allocation is reserved for state priorities and special initiatives determined by the DCA Commissioner. The focus on food banks addresses the nutrition component of the CSBG program.

"Our partnership with the Department of Community Affairs helps to fulfill the mission of the Department of Agriculture to feed the hungry of our state with wholesome, nutritious foods," said Secretary Fisher. "Every citizen deserves to have access to Jersey Fresh fruits and vegetables and the CSBG funding will increase the availability of these products, grown locally by New Jersey farmers, at the 793 food pantries, soup kitchens and homeless shelters around the state." 

Commissioner Jennifer Velez, Department of Human Services was also in attendance to remind everyone of the important role food banks have in providing sustenance for the indigent and working poor.

"The state's Food Banks serve as a safety net for many financially- and food-insecure families in New Jersey," said Department of Human Services Commissioner Jennifer Velez. "This partnership with the Department of Agriculture will supplement their inventory with healthy, fresh, Jersey-grown produce. Individuals who need to locate a local soup kitchen or food pantry can search online at www.endhungernj.org."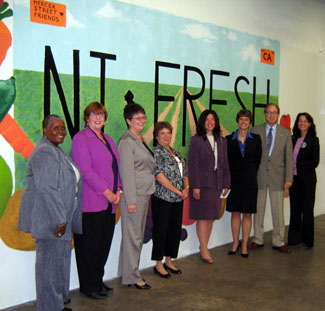 Valerie Traore of Foodbank of South Jersey; Linda Keenan of FoodBank of Monmouth and Ocean Counties; Helene Meissner of NORWESCAP; Phyllis Stoolmacher of Mercer Street Friends; Rose Tricario, NJDA's Director of the Division of Food and Nutrition; Commissioner Grifa, Secretary Fisher and Commissioner Velez

Funding to the food banks is based on the poverty level of the counties they serve. Twenty percent of the allocation to each food bank will be designated for fresh produce from New Jersey. A total of $147,462 was distributed to the following food banks, all of which were represented at today's announcement:
| | | |
| --- | --- | --- |
| Agency | Amount | Counties Served |
| NORWESCAP | $3,670 | Hunterdon, Sussex, Warren |
| Community Food Bank | $100,944 | North Branch: Bergen, Essex Hudson, Middlesex, Morris, Passaic, Somerset, Union |
|   |   | South Branch: Atlantic, Cape May, Cumberland |
| Food Bank of Ocean & Monmouth | $16,795 | Monmouth, Ocean |
| Mercer Street Friends | $5,839 | Mercer |
| Food Bank of South Jersey | $20,214 | Burlington, Camden, Gloucester, Salem |
The DCA's Division of Housing and Community Resources is committed to building neighborhoods and to providing financial and technical assistance to municipalities, community action agencies and other nonprofit organizations for community and economic development projects that improve the quality of life for low-income, disabled and disadvantaged residents.

The Department of Agriculture administers the federal Emergency Food Assistance Program which distributes United States Department of Agriculture-donated foods to the food banks and the State Food Purchase Program, which allocates funds to the food banks for the purchase of nutritious foods, including fresh New Jersey produce.

The Department of Human Services, in collaboration with the Hunger Prevention Advisory Committee, created www.endhungernj.org as a resource for food-insecure residents in New Jersey to access food pantries, soup kitchens and shelters by county. People can also call 211 or go to www.nj211.org.