BIOTECH HS STUDENTS SCORE BIG WINS IN NATIONAL FFA AGRISCIENCE COMPETITION

For Immediate Release: November 4, 2011


Contact:

Lynne Richmond
(609) 633-2954

(TRENTON) – Biotechnology High School FFA members placed first in six of the 20 Agriscience Fair categories and third in two of the categories at the National FFA Convention in Indianapolis, Indiana, in October.

The Agriscience Fair is a competition for FFA members who are interested in the science and technology of agriculture.  It is held annually at the national convention.

"Biotechnology FFA's achievements highlight the benefits of intense science and math coursework for agricultural education students," said New Jersey Secretary of Agriculture Douglas H. Fisher.  "New Jersey's agriculture industry needs individuals with advanced skills to stay competitive in the nation and world."

The competition recognizes students studying the application of scientific principles and emerging technologies in agricultural enterprises.  The students conduct a scientific research project pertaining to the agriculture and food science industries and present their findings to a panel of judges with a display and report.   Nineteen Biotech students participated in the Fair after placing first in the state event held last spring.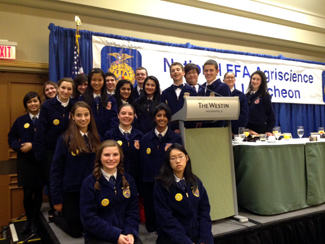 Front row, left to right: Suzy Riegelman, Kai Rau Next row up, left to right: Rebecca Barresi, Samantha Giffen, Lakshmi Iyengar The next two rows kind of blend together, so I'm just going to go left to right for them both combined: Julia Vanzelli, Amy Sollitti, Gianna Tempera, Deborah Bakshiyev, Michelle Zhao, Danny Greenberg, Ananya Sureshkumar, Kevin Trigani, Pankti Kothari, Steve Petrides, Will Wang, Alex Byrnes, Maria Wissler, Jane Shmushkis

Biotechnology High School, in Freehold Township, is part of the Monmouth County Vocational School District.  The school has one of New Jersey's newer FFA chapters, chartered in 2006. 

First Place Awards:

Biochemistry/Food Science/Microbiology, Division 3 – 10th graders Lakshmi Iyengar of Holmdel and Michelle Zhao of Marlboro for the project "Frozen Treat: Delicious and Nutritious?"

Biochemistry/Food Science/Microbiology, Division 4 – 11th graders Julia Vanzelli of Middletown and Pankti Kothari of Marlboro for the project "Ocimum sanctum and its inhibitory Effect on B.subtilis and E.coli."

Botany, Division 2 – 12th grader Samantha Giffen of Millstone for the project "Stress Response of Different Concentrations of NaCl on Arabidopsis thaliana."

Engineering, Division 4 – 11th graders Danny Greenberg and Gianna Tempera, both of Colts Neck, for the project "The Effect of Salt Concentration on Electrical Output."

Environmental Science, Division 3 -- 10-graders Alex Byrnes of Allentown and Steven Petrides of Brielle for the project "It Just Needs a Little Salt."

Environmental Science, Division 4 – 11th graders Kevin Trigani of Colts Neck and Ananya Sureshkumar of Manalapan for the project "The Effect of Simulated Acid Rain on Inhibition of Gram-Positive and Gram-Negative Bacteria."

Third Place Awards

Botany, Division 3 – 10th graders Maria Wissler of Freehold and Suzanne Riegleman of Red Bank for the project "Plants: Jolted or Jilted? Did they Grow Tall or Did they Get Wilted?"

Botany, Division 4 – 11th graders Rebecca Barresi of Little Silver and William Wang of Holmdel for the project "Spilling the Beans."   

New Jersey has 33 FFA chapters with 1,820 members this school year.