NJ DEPARTMENT OF AGRICULTURE, INSECT MUSEUM UNVEIL INVASIVE PEST ACTIVITY STATION
For Immediate Release: November 15, 2011
Contact: Lynne Richmond
(609) 633-2954

(TRENTON) – New Jersey Secretary of Agriculture Douglas H. Fisher today unveiled an invasive pest activity station at Insectropolis, an insect learning center in Toms River, as part of the Department of Agriculture's Forest Pest Outreach Survey Program's efforts to educate people about invasive pests that can damage trees and forests.

The interactive educational resource, consisting of a computer screen set inside a fabricated tree trunk, is meant to teach people more about invasive pests, what they should look for, how they impact the ecology and environment, and steps to take to prevent them from spreading.  It also points out the differences between damaging invasive pests and beneficial invasives.

"Insectropolis offers a terrific venue to reach large numbers of people who can act as scouts for these damaging and dangerous forest pests," said Secretary Fisher.  "The faster we know of an infestation, the better chance we have of preventing tree damage."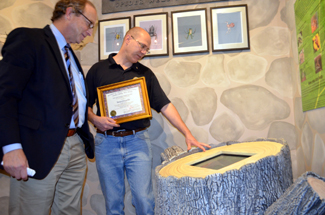 Secretary Fisher and Chris Koerner of Insectropolis view the new invasive pest activity station.

The activity station was a cooperative effort between the Department of Agriculture, the U.S. Department of Agriculture (USDA) Animal Plant Health Inspection Service Plant Pest Quarantine and Insectropolis. 

The display is situated in Insectropolis' Rock State Prison area.

"The new invasive exhibit is a perfect fit for Insectropolis because it is featured in our museum in an area that focuses on both beneficial and harmful insects," said Insectropolis founder Chris Koerner.  "One of our goals at Insectropolis is to educate the public on the many ways insects impact our lives.  We hope this exhibit will help people to better understand which non-native insects are beneficial and which are invasive; and how they can be active in protecting our environment."

The activity station is designed for anyone 8 years old and up and profiles 30 different bugs, not native to the United States.  The activities are broken down into the categories of Invasive Homeowner Pests, Invasive Forestry Pests and Invasive Agricultural Pests.  Some of the bugs included that have been in the news are Africanized honey bees, Asian longhorned beetle, Emerald Ash Borer, Gypsy Moth, and Brown Marmorated Stink Bug.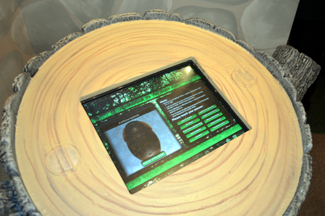 Insectropolis opened six years ago and has about 25,000 visitors a year.  The family-run bug museum is designed to inspire visitors to look more closely at nature and insects.  It is a destination for families, school field trips, and Boy and Girl Scout activities.

The Department of Agriculture is responsible for the state's Gypsy Moth Suppression Program, is currently conducting eradication activities in Middlesex and Union Counties for an Asian longhorned beetle infestation and just completed a survey to see detect Emerald Ash Borer, which has not yet been found in the Garden State. All three invasive species kill trees.

To learn about the Department's Gypsy Moth Suppression program, visit www.nj.gov/agriculture/divisions/pi/prog/gypsymoth.html.

For more information on Asian longhorned beetle eradication efforts, visit www.nj.gov/agriculture/divisions/pi/prog/asianlonghornbeetle.html.