NJDA FOOD SHOW HIGHLIGHTS NEW NUTRITIOUS, INTERESTING PREPARED FOODS FOR SCHOOL MEALS
School Food Service Reps Shop for Healthy Products for 2012-13 School Year

For Immediate Release: November 18, 2011
Contact: Lynne Richmond
(609) 633-2954

(TRENTON) – There was a smorgasbord of foods New Jersey children might see next school year in their school cafeterias at the Sun National Bank Center in Trenton on Thursday, November 17 as the New Jersey Department of Agriculture and New Jersey School Nutrition Association held their annual Commodity Food Show.

The show allows manufacturers and distributors to give school food service professionals a preview of the latest trends in prepared school foods made from United States Department of Agriculture commodities.  With the Garden State's strict school nutrition policy, many offerings were lower in fat and sodium, baked, not fried, and high in whole grains.

"Utilization of USDA commodities helps school food service operations reduce their food costs while providing healthy and nutritious meals," said New Jersey Secretary of Agriculture Douglas H. Fisher.  "The program is part of the Department's overall commitment to providing students with healthy choices in their school cafeterias."

Fifty-four vendors were on hand for the show, which was attended by 200 school food service representatives from all over the state.  This was the first year the annual event was held at the Sun Center.

"School food service professionals were able to taste a wide variety of healthy foods and speak directly to the manufacturers to determine which foods they would order for the 2012-2013 school year," said Rose Tricario, Director of the Department of Agriculture's Division of Food and Nutrition.  "The manufacturers are doing a great job developing nutritious, tasty foods that are appealing to children."

As part of the show, the Department offered in-depth training sessions focused on successfully participating in the Department of Agriculture's Commodity Foods Distribution Program.

"Government commodity foods could make or break a school food service program," said Sue Solleder, Jersey City School District's Food Service Director.  "We can use the commodities in bulk or processed, whichever meets your needs.  This is one of the most important shows that any food service director could attend."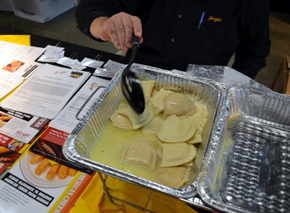 Giorgio Foods, Inc., a Pennsylvania-based food manufacturer, offered tastes of some of their new products, such as whole wheat pierogies, black bean empanadas, black bean empanada pizza with whole wheat crust, and low-sodium pizza.

Whole wheat pierogies


"The owner of Giorgio is a health conscious person and has been pushing the company to put out healthier products than what's out there," said Paul Tucker, Giorgio's Vice President for School Food Service Sales.  "We have to keep up with the trends and have stuff others don't have."

The vendors were pleased with the attendance at the show and that school food service professionals asked them a lot of questions about their products.

"It was a great turnout and great location, plus we got a lot of positive feedback from the food service directors," said John Foster, K-12 Education Segment Manager for KeyImpact Sales and Systems of Burlington, NJ, a food service sales agency.  "This gives us an opportunity to showcase our new items and see all the schools in one spot."

Some of the unique products on display at the show were McCain's new sweet potato bites and non-fried French fries, they call 'potato sticks,' which also are low in sodium.  Integrated Food Service had whole wheat vegetable quesadillas.  Tasty Brands displayed whole grain, oven-ready breaded green beans.  And, SunButter, offered a peanut-free, gluten-free spread made from sunflower seeds.

A panel of school students was brought in to put the new products to the test.  Nine students from Green Brook and Old Bridge Township school districts were chosen to taste test because those districts have attained the prestigious United States Department of Agriculture HealthierUS School Challenge Award, for their excellent school nutrition programs.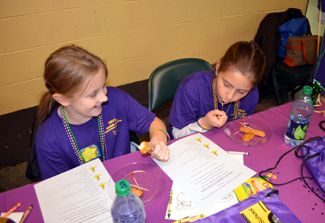 Brooke Murphy and Casey Jurgelevicious from Old Bridge taste chicken items

The students tasted15 products, donated by the vendors:  McCain crispy seasoned bakeable fries, smiles and sweet potato bites; Land O'Lakes pepper jack cheese slices, reduced fat Swiss cheese slices, and 50 percent reduced fat American slices; Tyson breaded chicken breast, unbreaded chicken breast, and chili lime glazed wings; Farm Rich crunchers, BBQ chicken melt and breadsticks; and GoldKist Farms breaded chicken breast bites, un-breaded honey BBQ nuggets and chicken sticks.  For each trio of choices, the students had to choose the one that tasted the best, was most nutritious and which one they liked best.

"It feels special because it's the first time I've been a taster," said Yohith Reddivari of Grissom Elementary School in Old Bridge, who chose the Farm Rich crunchers as his favorite of the three cheese products.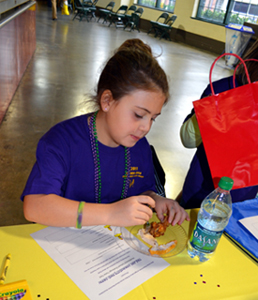 Brenna Conway from Green Brook does a taste test.

"I liked the seasoned fries the best," said Kayla Chun, an 8-year-old third-grader from Green Brook, after trying the trio of potato products.  "It was the crunchiest and I liked the seasoned part."

The Commodity Distribution program distributes USDA-donated foods to food processors, which make nutrient-dense reduced fat products, such as whole wheat crust pizza or whole grain breaded chicken nuggets, which are provided at a lower cost to school districts.  The NJDA also offers USDA commodities to eligible recipient agencies on a monthly basis from state-contracted warehouses.

In addition, fresh fruits and vegetables are offered to school children through the Department of Defense (DOD) Fresh Fruits and Vegetables program, currently set at $2.25 million this year. 

For more information on Commodity Distribution, visit www.nj.gov/agriculture/divisions/fn/fooddistrib/slcd.html.