SECRETARY OF AGRICULTURE SERVES THANKSGIVING MEALS TO CAMDEN HOMELESS
Highlights NJ Citizens In Need This Holiday Season

For Immediate Release: November 21, 2011
Contact: Lynne Richmond
(609) 633-2954

(TRENTON) – New Jersey Secretary of Agriculture Douglas H. Fisher today helped serve lunch to almost 100 people who regularly visit New Visions Homeless Day Shelter's soup kitchen in Camden.

New Visions serves a cold breakfast and hot lunch weekdays for area homeless and anyone who wants a meal.  The organization's food pantry also distributes 150 emergency food bags each month to those in need.

"People are struggling and organizations like New Visions are helping to ensure that those in need don't go hungry," said Secretary Fisher.  "Many of the people who seek food assistance in New Jersey are in that position through no fault of their own, but are victims of the poor economy.  We can help our neighbors by donating food items, money or their time at a food bank, food pantry, homeless shelter or soup kitchen."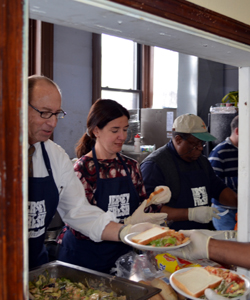 Secretary Fisher, Rose Tricario, Dir. of the Div. of Food and Nutrition and Damon Williams of the Division's Food Distribution program serve lunch at New Visions.

This week, New Visions is distributing bags with turkeys and all the makings for Thanksgiving meals, as well as frozen Thanksgiving dinners to 400 low-income families.

The organization receives most of its food from the Food Bank of South Jersey in Pennsauken, with the rest coming from local churches, schools and businesses.

"We're seeing more and more people losing their jobs or getting evicted so we've seen a significant increase in not only the homeless population, but in low-income families seeking help," said Kevin Moran, New Visions Executive Director.  "The number of donations is down across the board so we do the best we can to provide substantial meals to families."

Moran said New Visions' goal is to end the cycle of poverty for their patrons.  Besides the soup kitchen and a food pantry, the organization provides shower and laundry facilities, clothing, and mail services, as well as assists people in finding jobs.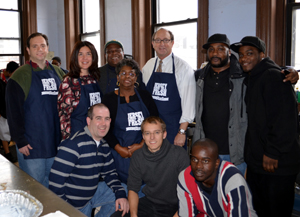 Secretary Fisher, Rose Tricario, and Damon Williams, along with Kevin Moran (bottom left) and New Visions volunteers.

New Visions Homeless Day Shelter was incorporated in 1995 and brought together three already existing programs originally begun by the Camden Lutheran Parish.  The Lutheran Social Ministries of New Jersey is the organization's managing agent.

The Department of Agriculture administers the federal Emergency Food Assistance Program, which distributes United States Department of Agriculture-donated foods to the state's six contracted food banks, and the State Food Purchase Program, which allocates funds to the food banks for the purchase of nutritious foods, including fresh New Jersey produce.

To find out more about the NJDA's Food Distribution Programs, visit www.nj.gov/agriculture/divisions/fn/fooddistrib/.

To find emergency food assistance or learn how to help in the anti-hunger effort, visit http://endhungernj.com/.