WINNING EAT RIGHT, MOVE MORE SCHOOL HONORED DURING NY JETS GAME
Lillian M. Steen School in Bogota Grand Prize Winner in School Nutrition Contest

For Immediate Release: December 15, 2011
Contact: Lynne Richmond 
(609) 633-2954

(EAST RUTHERFORD) – Six Lillian M. Steen Elementary School students, their principal Anna Rita Falco and the Gifted and Talented Teacher Thomas Montalbano represented their school Sunday, December 11 as the New York Jets and the Department of Agriculture (NJDA) recognized the school's nutrition achievements during the Jets/Kansas City Chiefs football game at MetLife Stadium in East Rutherford.

Steen School is this year's grand prize winner of the Eat Right, Move More program, which challenged schools to show how they have made changes in their menus reflecting more fresh fruits and vegetables; a greater variety of vegetables, such as dark green and orange vegetables and legumes; and more whole grains, as well as show strong support and demonstrate efforts to improve nutrition and physical activity among their students. 

The school received a $5,000 prize, which it plans to use to purchase equipment to wash, cut and prepare fresh produce and blenders to make smoothies, a November 29th visit by Jets Offensive Tackle D'Brickashaw Ferguson, and a VIP experience at the Jets game.

"The Steen School is a standout in its nutrition programs, commitment to using whole grains and fresh produce and teaching students about healthy eating and living," said Rose Tricario, Director of NJDA's Division of Food and Nutrition.  "The students who attended the game with us really knew about the foods that are good for them.  They even chose healthier options for lunch, like yogurt and granola."

The students who attended the game were: Faith Mecias, 3rd grade, Anthony Clement, 4th grade, Angelina Garcia and Eduardo Safanova, 5th grade, and David Marose and Cindy Perpepaj, 6th grade.  The group was treated to lunch by the Jets, brought down onto the field before the game and honored on the stadium Jumbotron during the second quarter.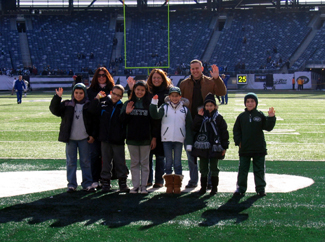 Rose Tricario of NJDA, school principal Anna Rita Falco and Tom Montalbano with the students on the field at MetLife Stadium prior to the start of the Jets/Kansas City Chiefs game.

"I got to go on the field of the Jets, watch the kicker kick a couple of field goals, see the players doing pre-game warm-ups and trying to stay fit," said David Marose, who was impressed with the Jets' lunch menu.  "They had a lot of healthy foods like fruit salad, yogurt and macaroni and cheese."

With more than 300 students, the K through 6th grade school places an emphasis on eating healthy foods, especially fresh fruits and vegetables.  They have "fruit and vegetable" days, as well as a fruit of the month and grow herbs in the school garden that are infused into the school's lunch menu by the district's chef.

The school's website includes a cafeteria page with recipes from menus on the monthly calendar, food facts, and links to the breakfast and lunch menu.  The school also holds a field day, annual Turkey Trot, Winter and Summer Olympics, physical fitness skill challenge and pedometer challenge.

"This was a reward to the students for doing the right thing by eating right," said Montalbano.  "Getting them to try the healthy foods is the main goal of our school's program."

The Eat Right, Move More program, a partnership between the Jets, the Department of Agriculture and the American Dairy Association & Dairy Council's Fuel Up to Play 60 campaign, encourages New Jersey school children to take advantage of healthy foods in their school cafeterias and become more active. 

This is the sixth year of the program, with D'Brickashaw Ferguson as spokesman.  The campaign features posters of Ferguson in every school telling students, "Eating healthy meals helps me play my best.  Your school cafeteria has a variety of nutritious foods to keep you going all day long.  So let's get up and Eat Right and Move More!"

This school year's other winning schools will receive visits from Jets players in the spring.  The schools are:  Dwight Morrow High School in Englewood; Mercer High School in Hamilton Township; Linden High School in Linden; and Thomas Edison Central Six School in West Orange.

Programs funded by the New York Jets Foundation touch the lives of countless young men and women in the tri-state area. Over the past eleven years, the Jets and their charitable foundation have donated or contributed more than $11 million to promote youth health, fitness and education, particularly in disadvantaged communities. From fighting childhood obesity through the Generation Jets: Be Lean & Green initiative to launching a football team in at an urban high school, urging students to eat right and move more, and supporting the efforts of the Alliance for Lupus Research, the New York Jets invest in programs that make a difference in the lives of others. In addition to the Jets Foundation, which supports their own extensive youth initiatives, the Jets partner with numerous established charitable organizations and participate in causes sponsored by the NFL.

The Department of Agriculture's comprehensive school nutrition policy covers pre-kindergarten through 12th grade students.  The policy limits fat and sugar content in foods offered in a la carte lines, snack bars and vending machines, school stores and as part of on-campus fund-raisers.

More than 685,000 students in both public and private schools participate in the National School Lunch Program, administered by the Department of Agriculture.

For more information about the Department's school nutrition programs, visit www.nj.gov/agriculture/divisions/fn/childadult/school.html.