CHRISTIE ADMINISTRATION ANNOUNCES FUNDING FOR GLEANING OPERATIONS
Funds to Expand Food Distribution for Those in Need

For Immediate Release: December 19, 2011
Contact: Lynne Richmond
(609) 633-2954

(CAMDEN) – Furthering the Administration's Season of Service, two organizations will share more than $73,000 in grants, made possible through the New Jersey Department of Agriculture State Food Purchase Program – Gleaning Support Program, to expand their work distributing fresh, New Jersey produce to emergency feeding agencies.

The New Jersey Agricultural Society's Farmers Against Hunger will receive $66,277 and Grow It Green Morristown will receive $7,112. 

"Gleaning operations complement our existing emergency feeding programs by providing our state's neediest citizens with fresh fruits and vegetables from our Garden State farmers," said New Jersey Secretary of Agriculture Douglas H. Fisher.  "This grant funding will help the two organizations step up their efforts next growing season to  provide even more produce to our state's food banks, food pantries, soup kitchens, homeless shelters and other agencies that feed the needy."

The Gleaning Support Program grants must be used by the gleaning organizations for collection, distribution and administrative costs.  The groups must distribute the gleaned New Jersey grown produce or non-farm nutrient dense rescued food gleaned from non-farm sources outside of the growing season only to New Jersey residents.

The funding for the grants comes from the State Food Purchase Program, for which Governor Christie allocated $6.8 million dollar this year to be distributed quarterly to the state's six foodbanks to purchase nutrient dense food with a high priority on buying locally grown produce from New Jersey farmers.

Farmers Against Hunger (FAH) serves 7,000 people weekly during the growing season through 60 organizations, including soup kitchens, food pantries and the state's food banks.  Farmers from all over the state participate by donating their surplus produce or allowing volunteers to come onto their farms and glean – or, pick, excess produce.  In 2011, they received about 1.5 million pounds of fruits and vegetables from farmers, food retailers and distributors.

"The gleaning grant will provide us with a huge amount of what we need to operate," said Kristina Guttadora, FAH Produce Collection and Distribution Coordinator.  "It will help us increase the amount of gleanings we can do during the season and expand the number of people we're able to bring healthy food to."

Grow It Green Morristown operates The Urban Farm at Lafayette in Morristown on land owned by the Morris School District.  In both of the years it has operated, the organization has donated more than 2,000 pounds of fresh produce grown on the farm to local organizations, such as soup kitchens, food pantries and schools.

"The gleaning grant will enable us to purchase and maintain a small pickup truck for the farm to permit us to better serve our community, make timely deliveries and bring our educational sessions right into the Morris School District's classrooms during the off-season of the garden," said Carolle Huber, Founding Member of Grow it Green Morristown.

Secretary Fisher announced the grants today at Center for Family Services Head Start, Mt. Calvary site in Camden, which will be receiving fresh produce from Farmers Against Hunger during next year's growing season.  The program serves about 160 3 to 5-year-olds.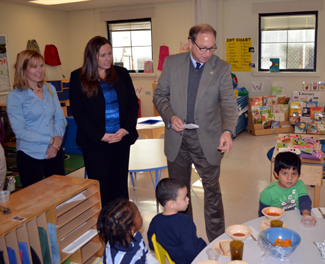 Kristina Guttadora from Farmers Against Hunger, Merilee Rutolo, Head Start Director for Center for Family Service and Secretary Fisher visit a classroom during lunch.

"Through the Head Start program, we promote making healthier food choices," said Merilee Rutolo, Head Start Director.  "A partnership with Farmers Against Hunger provides us with the resources to incorporate fresh fruits and vegetables in daily meals, and, providing children and families with accessibility to fresh produce is an effective way to encourage healthy family eating."

During this Season of Service, Secretary Fisher also observed the children eating lunch and visited a classroom to read the book, "An Apple a Day" by Melvin Berger, which takes children from the planting of apple trees to the creation of an apple product.

Mt. Calvary Head Start is a program of Center for Family Services, a non-profit organization whose mission is to support and empower individuals, families and communities to achieve a better life.  Its head start programs provide comprehensive education, health, nutrition, mental health and social services to promote school readiness and enhance the social and cognitive development of children and provide a support system for families.

For more information on the Department of Agriculture's State Food Purchase Program, visit: www.nj.gov/agriculture/divisions/fn/fooddistrib/foodpurchaseprogram.html.