GREEN BROOK ELEMENTARY SCHOOL HONORED FOR NUTRITION, PHYSICAL ACTIVITY INITIATIVES
Federal, State Officials Present Irene Feldkirchner School with Award

For Immediate Release: February 3, 2012
Contact: Lynne Richmond
(609) 633-2954

(GREEN BROOK) – United States Department of Agriculture and New Jersey Department of Agriculture Food and Nutrition officials today presented the Irene E. Feldkirchner Elementary School in Green Brook with the HealthierUS School Challenge Award, which recognizes schools that promote good nutrition and physical activity.

The school attained the Bronze Level of the award, which earned the district $500. 

"The Irene Feldkirchner School has done a great job making good nutrition and exercise priorities so students are equipped to do their best in school," said Rose Tricario, New Jersey Department of Agriculture Division of Food and Nutrition Director.  "New Jersey's stringent nutrition standards put all schools in the state on track to earn this award.  We encourage the school to continue to build upon its success and reach higher levels of the award."

The HealthierUS School Challenge (HUSSC) is a voluntary national certification initiative for schools participating in the National School Lunch Program.  Sponsored by the USDA Food and Nutrition Service (FNS), the initiative encourages all schools to take a leadership role in helping students to make healthier eating and physical activity choices that will last a lifetime. 

"Achieving the HealthierUS School Challenge recognition demonstrates the Green Brook school district's deep commitment to create and maintain a healthy school environment," said James Harmon, Director of Special Nutrition Programs, USDA Food and Nutrition Service.  "Irene E. Feldkirchner Elementary School can serve as a model for others seeking to make improvements."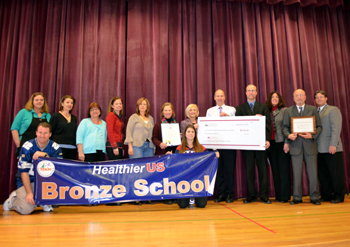 School Phys. Ed. Teachers holding the banner: Gary Schaefer and Lauren Hauser.  Rear row: Joanne Capobianco, Food Service Manager; Patricia Baxter, Food Ser. Dir.; Pam Ostrander, school nurse; Cindy Sue Schaller, Ops Manager; Nora Tsivas, school nutrition committee member; Assemblywoman Linda Stender; Somerset County Freeholder Dir. Patricia Walsh; Mark Vidovitch, Pomptonian Pres.; District Bus. Admin. Michael Colling; Rose Tricario, NJDA; School principal Armand Lamberti; and James Harmon, USDA Food and Nutrition Service.

To achieve the bronze level of the award, the school worked with its food service management company, Pomptonian, with input from students, to formulate a menu of healthier food choices that included less fat and sugar. Fresh produce is always on the menu and they have a Farm Stand of local produce when in season. 

"It's gratifying to see the student participation increase," said Mark Vidovitch, President of Pomptonian.  "In our recent Nutrition Advisory Committee meeting the students commented that they love all the fresh fruits and vegetables offered every day." 

School Principal Armand Lamberti said they place a lot of emphasis on healthy living.  The school has a rigorous Physical Education program that includes FITNESSGRAM, and SPARK curriculum – Pre-K through grade 3.  Recess is held prior to lunch.  There are both district-wide and building level Nutrition Committees and the district has its own nutrition policy, which is periodically reviewed and updated.

"We at IEF School are honored to be recognized - on a national level - as bronze award winners in the US Healthier School Challenge," said Lamberti.

Feldkirchner School is among 21 in the state that have earned the HealthierUS School Challenge Award. Ultimately, FNS would like to see all schools receive a HUSSC award at any one of the four levels of superior performance:  Bronze, Silver, Gold, or Gold Award of Distinction.  Schools awarded receive a monetary incentive (Bronze $500, Silver $1,000, Gold $1,500, and Gold Award of Distinction $2,000), an award plaque signed by a USDA official, a banner to display in their school, and their name listed on the Team Nutrition Web site.

To qualify for an award, a school must submit a formal application and meet basic criteria set forth by the FNS.  The HUSSC criteria reflect the recommendations of the 2005 Dietary Guidelines for Americans, and the Institute of Medicine (IOM) published recommendations (April 2007) for foods that should be served in schools, outside of the organized school lunch meals.  HealthierUS Schools must also have a local school wellness policy, as mandated by Congress.  Schools receiving a HUSSC award commit to meeting the criteria throughout their four year certification period.

Schools, such as Irene E. Feldkirchner Elementary School, that champion the HUSSC work hard to make changes to their school nutrition environment in order to (1) improve the quality of the foods served, (2) provide students with nutrition education, and (3) provide students with physical education and opportunities for physical activity. 

For more information on the HealthierUS School Challenge, visit www.fns.usda.gov/tn/healthierus/index.html.

For more information on New Jersey's school nutrition policy, visit: www.nj.gov/agriculture/divisions/fn/childadult/school_model.html.