AGRICULTURE SECRETARY HELPS PACKAGE LUNCHES FOR THE HOMELESS
For Immediate Release: March 30, 2012
Contact: Lynne Richmond
(609) 633-2954

(TRENTON) – New Jersey Secretary of Agriculture Douglas H. Fisher helped prepare meals for the homeless today during a visit to the Southern Regional Food Distribution Center in Vineland. 

"Volunteers and donations are needed all year long at the many agencies serving those in need in the state," said Secretary Fisher.  "I encourage everyone from large corporations to families to get involved in helping our neighbors who find themselves in need."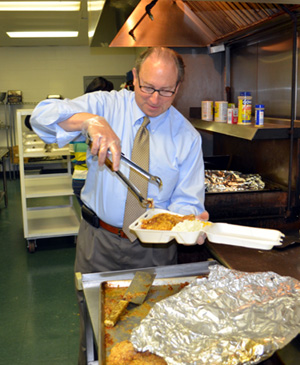 Secretary Fisher packed a lunch of chicken and corn from the TEFAP program, donated potatoes and the chicken was coated with corn flakes purchased with SFPP funds.

The Department of Agriculture administers two programs -- the federal Emergency Food Assistance Program (TEFAP), which distributes United States Department of Agriculture-donated foods to the state's six contracted food banks, and the State Food Purchase Program (SFPP), which allocates funds to the food banks for the purchase of nutritious foods, including fresh New Jersey produce – which supplement food and monetary donations to the food banks.  Those agencies provide food items to hundreds of food pantries, soup kitchens and homeless shelters throughout the state.

Southern Regional Food Distribution Center serves 44 food pantries serving 85,339 people and 4 soup kitchens and shelter, serving 260,197 meals a year and distributed a total of 896,049 pounds of food last year.

Tammy Morris, center director, said they saw a 48 percent increase in the number of people served by the food pantries between 2010 and 2011.  She said TEFAP and SFPP are essential programs that make a difference in people's lives.

"Both of these programs are vital to assisting those with limited or no income," said Morris.  "Our agency owes a great deal of thanks to the volunteers at our food pantries, soup kitchens and shelters because without their assistance the food from these programs would not reach those in need."

Southern Regional Food Distribution Center is part of the Rural Development Corporation, which runs Cumberland Family Shelter, serving single men and women, women/men with children or intact families.  The shelter was opened to assist an unserved population with their homelessness, since there were not any other facilities in the Cumberland County area.  Over the course of 2011, the shelter, which has a capacity of 56 people at any given time, served a total of 465 people.

The emergency feeding operations in the state fed almost 900,000 people in 2010.  They reported sharp increases in the last three years.

For more information about the Department of Agriculture's hunger programs, visit www.nj.gov/agriculture/divisions/fn/fooddistrib/.

For more information on how to get involved or to seek assistance, visit http://endhungernj.com/.