SECRETARY OF AGRICULTURE SAYS BUY LOCAL THIS SPRING AT GARDEN CENTERS AND NURSERIES
Spring Planting Season Underway

For Immediate Release: April 17, 2012
Contact: Lynne Richmond
(609) 633-2954

(TRENTON) – New Jersey Secretary of Agriculture Douglas H. Fisher today encouraged consumers in the Garden State to Buy Local when beautifying their landscapes this season.

"With the warm weather upon us, it is a great time to head out to your nearby garden center or nursery to buy plants, flowers, trees and shrubs or call your local landscaper to help you plan your garden," said Secretary Fisher.  "When you go, ask for Jersey Grown to get high-quality products that are accustomed to the region's climate and are disease and pest-free."

Fisher added that buying local helps our state's economy and strengthens the agriculture industry.  Horticulture businesses generated $451.1 million in revenue in 2010.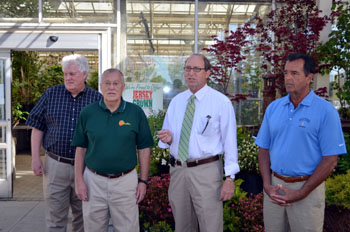 Secretary Fisher at McNaughton's Garden Center in Somers Point with (l to r) Noble and Bill McNaughton and Assemblyman John Amodeo

Jersey Grown, similar to the Jersey Fresh program for local produce, was launched several years ago to identify New Jersey horticultural products in the marketplace.  This year, the program was expanded to include annuals.  Previous expansions of the program added Christmas trees, firewood, birdseed and wood. 

The Secretary visited McNaughton's Gardens in Somers Point to highlight the many products and services available at local garden centers and nurseries.  McNaughton's was first opened in Cherry Hill in 1929 by William McNaughton Sr. as a combination wholesale/retail landscape nursery.  His son, William Jr. took over the operation in 1966 when William Sr. passed away. 

Bill McNaughton soon purchased land in Tabernacle to expand the company's production capabilities.  The growing operation, Indian Mills Nursery, is operated by Bill's brother, Noble McNaughton.  It now totals 300 acres in Tabernacle and Deerfield. 

McNaughton's Gardens opened its second location in Somers Point in 1996, which focuses on landscape design and maintenance and has a wide array of outdoor furniture. 

McNaughton said their main function remains growing, producing the majority of the plants that they sell, including bedding plants, perennials, shrubs and trees.  In addition, they offer landscape and lawn maintenance, lawn care and irrigation.  The three facilities employ a base of 90 people.

Bill McNaughton said spring is a great time to plant shrubs, trees and perennials.

"Now that spring has arrived, gardeners should be cleaning their beds, removing weeds, feeding their plants and applying mulch," said McNaughton.  "Preparing and planting vegetable and herb gardens also can be done at this time.  It's also a great time to plan a new landscape or renovate an established one."

Suzanne VanSciver, President of the New Jersey Nursery and Landscape Association (NJNLA) and owner of Quinton Nursery in Salem County, urged people to go out and see what's new at their retail garden center this season.

"It's always recommended that consumers purchase locally grown, and Jersey Grown products for two reasons: it supports the local economy and the dollars stay in the state, and benefit the New Jersey growers directly," she said.  "Secondly, plant material that is grown locally will usually be hardier and less likely to experience a period of adjustment for our climate.  As a grower, I love to see the plant species grown in my nursery in local landscapes."

A list of independent New Jersey garden centers and nurseries and more information on the Jersey Grown program can be found at www.jerseygrown.nj.gov.