SECRETARY FISHER MEETS RARE WHITE COLT
Visits Cream Ridge Standardbred Breeding Farm
For Immediate Release: June 12, 2012
Contact: Lynne Richmond (609) 633-2954
(TRENTON) – New Jersey Secretary of Agriculture Douglas H. Fisher today visited Mark Mullen, owner of Fair Winds Farm in Cream Ridge to meet the much-acclaimed Coochie Mama and her foal, "the white colt." 
A white Standardbred horse is a very rare occurrence; the last known all-white Standardbred in North America was born in Canada almost 15 years ago.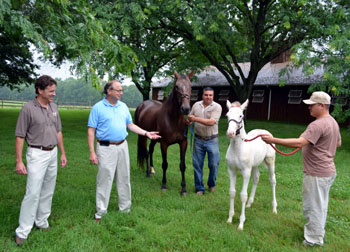 Mark Mullen shows Secretary Fisher Coochie Mama and the white colt at Fair Winds Farm.
"Standing next to such beautiful animals here at the farm reminds us once again of the extraordinary heritage and impacts Standardbred racing and horse farm operations have on the state's economy," said Secretary Fisher. "The white colt ignites our imagination and reminds us why the horse is the State Animal of New Jersey."
The white colt was born on May 6 at Fair Winds Farm.  His father is Art Major, a $2.7 million winning harness racing horse.
To learn more about the white colt or suggest a name, visit https://www.facebook.com/WhiteColt.