SECRETARY OF AGRICULTURE KICKS OFF FARMERS MARKET TOUR WITH STOP IN TOMS RIVER
Community Farmers Markets Throughout State Opening, Offering Jersey Fresh Produce

For Immediate Release: June 13, 2012
Contact: Lynne Richmond
(609) 633-2954

(TOMS RIVER) – New Jersey Secretary of Agriculture Douglas H. Fisher today celebrated the beginning of community farmers market season in New Jersey with a visit to the Toms River Farmers Market.  Today's visit is the first of a series of stops by the Secretary over the coming weeks to highlight the nearly 150 farmers markets operating statewide and in every county.  New Jersey's farmers markets offer residents the opportunity to enjoy just-picked, Jersey Fresh produce directly from the state's farmers, while supporting state agriculture and their local economies at the same time.

"All the spring vegetables and herbs are available now, as well as other favorites, such as Jersey Fresh blueberries and sweet corn, which are a few weeks earlier than normal due to an unusually warm patch back in March," said Secretary Fisher.  "It is a great time to visit your nearby farmers market, meet the farmers who grow your food and show your support the Garden State's agriculture industry."

The Toms River Farmers Market is held Wednesdays, 11 a.m. to 5 p.m. in a parking lot at the corner of West Water and Irons Streets.  It features produce from four farmers and a variety of vendors selling everything from seafood and meats to baked goods, nuts and candies.  The market first opened in 2006 and is now operated by the Toms River Business Development Corporation, which administers the Toms River Business Improvement District.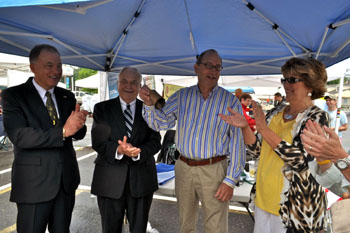 Ocean County Freeholder Gerry Little and Toms River Mayor Tom Kelaher look on as Secretary Fisher rings the cowbell signifying the start to another season of the Toms River Farmers Market.  Photo courtesy of Mayor Kelaher.

"The Toms River Farmers Market is more than a collection of vendors from throughout New Jersey, it serves as another venue for local businesses to connect with prospective customers, and as a meeting place for many regulars, locals and visitors alike," said Joseph J. Alessandrine, Jr., Executive Director, Toms River Business Development Corporation.  "And, of course, it is a wonderful way to celebrate why we are called the Garden State -- we can be very proud of what is home-grown here in New Jersey."

Farmers at the Toms River market and many markets throughout the state participate in the Women, Infants and Children (WIC) and Senior Farmers Market Nutrition Program (FMNP), which provides vouchers for the purchase of locally-grown fresh fruits, vegetables and herbs.  The United States Department of Agriculture (USDA) program administered by the State Department of Health and Senior Services allots $20 in checks to qualifying individuals, which are valid through November 30.

For complete information on locations, days and hours of community farmers markets throughout New Jersey, visit www.state.nj.us/jerseyfresh/searches/urban.htm. 

For more information on the WIC and Senior FMNP, visit: www.state.nj.us/agriculture/divisions/md/prog/wic.html.