SECRETARY OF AGRICULTURE, INDIA OFFICIAL SOW SEEDS OF NJ/HARYANA FRIENDSHIP WITH FARM VISIT

For Immediate Release: July 25, 2012
Contact: Lynne Richmond
(609) 633-2954

(TRENTON) – New Jersey Secretary of Agriculture Douglas H. Fisher and Assembly Speaker Kuldeep Sharma from the Indian state of Haryana visited Wightman's Farm in Harding Township on Monday, July 23. 

Sharma is in the United States this month to participate in an International Conference for Speakers scheduled to be held in Chicago in early August and visited Wightman's Farm to learn more about the state's agriculture industry and Jersey Fresh.

"With a growing Asian-American population in New Jersey, meeting Speaker Sharma was a great opportunity to learn more about Indian customs and what farmers might grow to serve our diverse community," said Secretary Fisher.  "We hope that we can build upon this new relationship in terms of trade in the future."

Agriculture is the leading occupation of residents in Haryana, which is one of the main contributors to the production of foodgrains and milk in India, a country of more than 1.2 billion.

Indian-Americans are the fastest-growing group in New Jersey and comprise the largest component of Asian-Americans, which account for 8.3 percent of the state's nearly nine million population.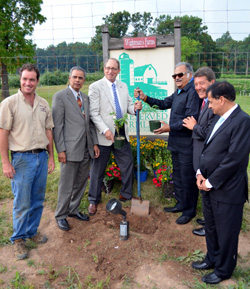 Adam Costello, Wightman's Farms foreman; Assemblyman Upendra Chivukula; Secretary Fisher; Speaker Sharma; Assemblyman John McKeon; Dr. Sudhir Parikh.

Wightman's Farm includes pick-your-own peaches, nectarines, apples and flowers, as well as a retail market and various fall agritourism activities.  Secretary Fisher and Assembly Speaker Sharma ceremonially planted jasmine seedlings at the farm to signify sowing the seeds of what is hoped will be a growing friendship and trade relations between New Jersey and Haryana. They were joined by Dr. Sudhir Parikh, philanthropist, noted allergist and publisher of the News India Times, Desi Talk and The Indian American.