NJ TOP SEAFOOD CHEF READIES BEST OF JERSEY DISH FOR NATIONAL SEAFOOD COMPETITION
Secretary Fisher Serves as Taste Tester During Practice Run

For Immediate Release: July 31, 2012
Contact: Lynne Richmond            
(609) 633-2954

(TRENTON) – New Jersey Secretary of Agriculture Douglas H. Fisher today taste-tested Jersey Beer-Battered Soft-Shelled Crab, the dish the state's top seafood chef Demetrios Haronis will prepare as New Jersey's entry in the Great American Seafood Cook Off in New Orleans on August 11.

Haronis,

the Executive Chef at Fin in the Tropicana Casino and Resort in Atlantic City, and his sous chef, Al Hughes,

held a practice run of his entry today at New Jersey Restaurant Association Headquarters in Trenton with Secretary Fisher and a group of restaurant industry experts as tasters.

"Chef Haronis is a wonderful spokesman for the New Jersey seafood industry and has created a dish that highlights both our incredible seafood and our Jersey Fresh produce," said Secretary Fisher.  "I am sure he will be well-received in New Orleans and will make our state proud."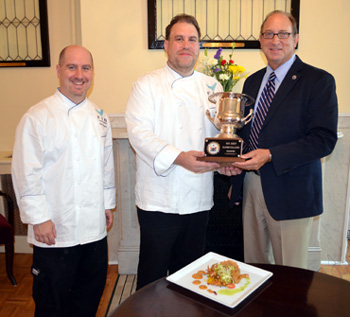 Sous Chef Al Hughes, Chef Demetrios Haronis and Secretary Fisher with the NJ Top Seafood Chef Award

Haronis competed against seven other premier seafood chefs from around the state at the Department of Agriculture's Jersey Seafood Challenge on June 21 at Drumthwacket, the Governor's Mansion, in Princeton, earning the honor of representing New Jersey at the national cook-off. 

"The practice run helped us make some minor adjustments and refine the dish in preparation for New Orleans," said Haronis.  "Participating in the Great American Seafood Cook Off is a great opportunity to showcase New Jersey on a national level and help spread the word that  New Jersey produces some of the greatest products in the world."

The Great American Seafood Cook-off is held during the Louisiana Foodservice Expo in the Morial Convention Center, and will be televised nationally by the Food Network. The champion will be named King or Queen of American Seafood.

New Jersey has a significant seafood industry.  In 2010, New Jersey fishermen reeled in 162 million pounds of seafood, valued at $178 million.  It is estimated these landings generated a billion dollars of economic activity.  The industry also generates thousands of jobs, with 2,500 commercial fishermen, and 1,500 employed by 109 seafood processors/dealers.

The top species by dollar value harvested in New Jersey included:  sea scallops; surf clams; oysters; hard clams; blue crabs; ocean quahogs; and, fluke.

For more information about New Jersey seafood, visit the Jersey Seafood website at www.jerseyseafood.nj.gov.